1. Epitomize the Scholar-Teacher Ideal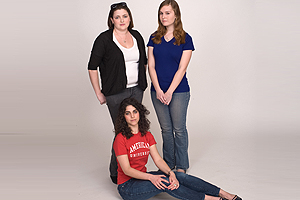 "The scholar-teacher ideal is a model for students as well as faculty. Pursuit of knowledge and understanding, and simply getting 'it' right should be part of their lives and daily endeavors. Learning how to inquire, learning how to explore, is what their education is all about." —Alan Kraut, professor of history, CAS, and a Scholar-Teacher of the Year
PRAGUE SEASON
The path of scholarship isn't one that Gail Mardirosian walks alone. AU students and alumni are part of her journey, even when it leads to Prague.
The performing arts professor, CAS/MA '79, CAS/PhD '02, is in Prague as a Fulbright scholar, directing a play written in the World War II Terezin ghetto by imprisoned artists. It will be performed at the camp itself, and Mardirosian calls it "the most challenging experience of my directing life."
Her students and fellow alumni helped her prepare by doing a read-through of the play and pondering its message—"we need beauty and wisdom as we need a piece of dry bread and a warm cover."

Mardirosian's students then traveled to Prague to absorb the city's artistic heritage, join acting workshops, and experience Terezin with a survivor. "We felt so fortunate to have that opportunity," adds Erika Hall, CAS/BA '09, right. "We really came to understand how art can be a strategy for survival," says Ezree Mualem, CAS/BA '09, seated.

AU film students studying abroad are documenting the project, while an arts management graduate student plans publicity for the play, which will also be performed at AU, along with poetry by Terezin children set to choral music. Mardirosian's research will inform an honors course.
Alum Bethany Corey, CAS/BA '07, left, helped organize the study trip. "To me," she says, "Gail is the epitome of a scholar-teacher—constantly working to learn more, do more with herself, and involve her students in what she learns."