7. Act on Our Values through Social Responsibility and Service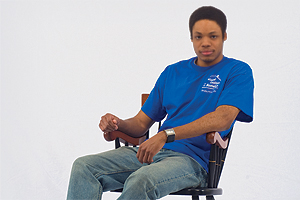 (Photo: Jeff Watts)
"What's really critical is we are determined not to be an ivory tower. I don't think there's anyone on campus who isn't connected beyond the university to multiple tiers of external service. What I do in the classroom spills over to my scholarship and spills over very dramatically into my public service." —Pam Nadell, professor of history, CAS; director, Jewish Studies Program; and a Scholar-Teacher of the Year


FIGHTING INJUSTICE
The Washington Post and Time don't often quote interns. But Tony Taylor, CAS/BA '09, isn't a typical intern.
The psychology major with "a passion for poverty issues" began interning last summer at the National Coalition for the Homeless, which is working on legislation that will make crimes against the homeless hate crimes.

To bolster the case, Taylor enlisted sociology professor Andrea Brenner as a mentor and designed a survey on violence. Then he spoke to AU classes and found volunteers to fan out to soup kitchens and shelters with the questions.

The findings: one in four homeless people in D.C. had been a victim of violent crime by the non-homeless.
Meanwhile, Penny Pagano, SOC/BA '65, director of the office of Community and Local Government Relations and a veteran D.C. political insider, connected him with some of the city's key players.

He's since testified before the D.C. City Council, found a supporter in Rep. Eleanor Holmes Norton, and earned his wings as a media spokesman for the homeless.
Taylor, right, has regularly spent 24 hours a week at his unpaid job, far more than the formal internship requirement—all while maintaining an honors' level GPA.