Achievements
AU Heralds 14th President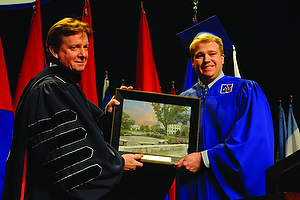 Neil Kerwin, inaugurated on February 8, 2008, as the 14th president of American University, has been part of the life of AU for more than 40 years. Along the way, he has made many transitions: as a freshman finding his place on campus; as an esteemed professor and administrator; and as the first alumnus to serve as AU's president.
To mark this inaugural week students, faculty, and alumni came together to celebrate the many facets of the AU experience.
It began with a burst of creativity. Dancers, actors, musicians, poets, and other student artists dazzled on stage, in a café "poetry pit," and all around the Katzen Arts Center at a night featuring the talents honed at AU. Then the university reflected on its key values of scholarship and engagement, with a series of faculty and expert panels looking at issues from the role of scholars as public intellectuals to the politics of the presidential race to the nexus of scholarship and teaching.
The week's events led up to the moment on Friday when Kerwin stepped in front of a sea of faces at Bender Arena to receive the presidential medallion from Chairman of the Board Gary Abramson '68.
All around were the signs of an AU ceremonial occasion—from the festive red, white, and blue masses of flowers and balloons to musicians with fifes, drums, and bagpipes. A robed procession of faculty, and delegates and representatives from as far as Ritsumeikan, Japan, and as nearby as northwest D.C., was led by Faculty Senate chair Gary Weaver, who carried the American University mace, a symbol of authority, on behalf of President Kerwin. AU's Symphony Orchestra and University Chorus performed; Faculty Senate chair Weaver, Interim Provost Ivy Broder, Alumni Board president Brian Keane '89, Kerwin's academic advisor, Johns Hopkins professor emeritus J. Woodford Howard, and student leaders honored AU's new president with gifts and tributes.
When the new president addressed the assembly, he spoke of a place he knows in great depth and considers with great affection. He noted the contributions of AU' schools and colleges.
Kerwin shared his thoughts on AU and Washington, on alumni, and on the future.
On Washington
"Our history is one of intense engagement with this great city of Washington. It is our stage, it is our laboratory and, most important, it is our home . . . It is both our responsibility and great opportunity to participate fully in its life and promote its well being.
Service is deeply embedded in our mission; Washington is our home, and it must command a strong call on our immense capacity to serve. And, Washington's limitless opportunities must be our deep reservoir for teaching, learning, research, and art."
On Alumni
". . . Our alumni are the most persuasive and impressive evidence of the power of this institution; the best examples for our students of what awaits them if they take what this institution has to give.
With all your differences alumni have one crucial thing in common—individually and collectively you can change this university's future in profound and positive ways.
Already generous with time, information, and funds I will ask you to do more. But this familiar request comes with a special promise: we will build one of the finest alumni organizations in higher education. We will link you, our alumni, to your university more deeply and extensively. When you give you will know it is to advance American University's future because you will know [your gifts] go to the needs of our faculty and students."
On the Future
"There is great satisfaction in being part of something that makes a positive difference in the world, an institution that makes important commitments, works hard, and delivers on its promises . . . We are a place where knowledge is created, where knowledge changes lives and those lives go on to change the world. Trustees, faculty, students, alumni, staff, and friends can be proud that we are part of such an institution.
American University is ours now to protect, ours to advance, and ours to pass on to others stronger than we found it. American University will always command the best that I have to give, and I will ask the same from each of you."
Inaugural Fanfare
Every moviegoer knows that when an important character appears on the scene, he may be accompanied by a musical leitmotif. It's a tradition found in classical music, too, from Wagner's operas to Prokofiev's Peter and the Wolf.
More lighthearted than Wagner, "Fanfare on K-E-R-W-I-N" still sets a memorable musical note. It's a musical anagram created to celebrate Neil Kerwin's inauguration as president by composer, music professor, and dean of academic affairs Haig Mardirosian. It was performed at the Inaugural Week Arts Showcase that highlighted one of AU's distinctive points of pride—the creative and performing arts.
How six letters became three notes is a matter best left to musicians to explain. It has to do with assigning letters to each note of the scale, so that the letter I, for instance, is represented by a C.
Mardirosian notes that he did take a few liberties for the sake of setting the right mood, such as compressing everything onto the same octave, and adding a sharp to the W (which appeared in the guise of C) to give the theme an upbeat, triumphal feel. It was performed by students from AU's Wind Ensemble, with music librarian Nobue Motsuoka as timpanist.