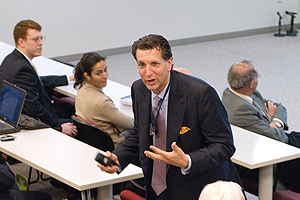 Two buttons sit prominently inside a black box on the right side of Levick Strategic Communications' home page, each offering a deceivingly simple solution to vastly different problems.
"Get me into the news," one reads.
"Get me out of the news," states the other.
The company, founded by Richard Levick, WCL/JD '87, a decade ago, has established itself as an industry leader in each and is one of the world's top firms to which corporations and even countries turn when crisis strikes.
"Being a protagonist in history, rather than a spectator, is a pretty exciting life," Levick says. Much like a firefighter, when a crisis erupts Levick runs into the blaze while others drift away. The figurative fires he extinguishes are critically important to his high-powered clients squirming uncomfortably under the white hot glare of the media spotlight, clients whose fates often rest in his hands.
"All crisis communication is ultimately a Shakespearian tragedy," he says. "You have to have your hero, and you have to have your villain. Those are the only two roles."
You need to get your message out fast, Levick stresses; "those who wait become the villain."
As CEO and president of the company he built from the ground up, Levick travels the world (he's banked more than 1 million frequent flyer miles) working on issues as sensitive as the U.S. treatment of enemy combatants and the scandal surrounding the Catholic church and pedophilia. He is charged with altering the arc of the media's storyline in the midst of a crisis to favor his clients' interests.
"Trust is critical," he says. "You have to know your clients, and they have to know and trust you. You need to be able to tell them what's going to come next. During a crisis you're emotionally exhausted. You're prone to make incorrect decisions. You have to take action. You have to make go-no-go decisions without enough information."
Levick has represented half of the nation's and a third of the world's largest law firms and their clients. His company helped the spinach industry when an outbreak of E. coli hit and worked with a Middle Eastern government friendly to the United States that objected to the manner in which prisoners were dealt with at Guantanamo Bay.
"We were the first firm to be involved in the Guantanamo crisis," Levick says. "Very few Americans were concerned about the civil rights of [purported] terrorists. It's the same issue today, but the concern has increased about people not getting due process. The story changed."
Levick, 50, hoped to influence the course of events since his childhood in suburban Washington. He majored in urban studies as an undergraduate and eyed a political career. While working for a public interest group in Michigan, however, he became intrigued with the communications field's ability to control messages.
"I organized a press conference at the capitol [in Lansing]," he recalls. "Here I am, 23, 24 years old, and it was packed. All the TV networks from Detroit were there, and the governor ended up having to do a 180. It took my breath away and gave me an extensive sense of what you can control through communications."
With a new professional focus, Levick set his sights on returning home.
"I always felt Washington was the seat of power," he says. "I wanted to come back, and AU became my first choice. The great thing about crisis communications is it's not just about the media. You have to learn business, politics, the law. It's critical to have a varied and deep background."
After earning his JD from WCL, Levick founded his first firm, sold it to a partner, then ran the communications department at another. Eventually, Levick Strategic Communications was born.
"He is a very well educated, very smart, very analytical guy who has a sense about him of how you should present things," says Larry English, a former Levick client. "Part of it comes from experience, and part of it comes from instinct."
English tapped Levick twice, once to get his company into the news, once to get it out. As a board member of Curative Health Services in 2002, English employed Levick to help the company deal with the firing of its CEO.
"It was a very awkward situation because the company stock price had run up in the months preceding this," English says. "We had a major crisis communication issue on our hands.
We hired Levick to show us through this process, and we got through it without any lawsuits, and the stock prices eventually recovered."
A few years later, English had moved on to become chairman and CEO of QuadraMed Corporation, which was poised to go public.
"Our shares were about to be listed on the American Stock Exchange, and we wanted to tell the world, our customers, our employees, our shareholders, that QuadraMed was healthy," he says. "I wanted—and got—a lot of local and national media coverage. They did a great job of orchestrating that event."
Levick approaches crisis communications in a multifaceted manner. In the Guantanamo matter, not only did his firm lobby editorial boards at major newspapers, but it created a Web site (structuring it to ensure it was among the top selections of search engines) and helped organize a protest rally in London, pictures from which were beamed around the world.
"They're very strong on full disclosure, getting all the facts out, don't lie to anybody," English says. "You get in denial when stuff happens, you want to hide things. It's hard to describe unless you've been in a crisis. Your whole life is unraveling around you, and they get you back on track."
In the end, Levick says, the objective is quite simple—to win.
"All clients deserve representation, and our job is to get them out of trouble," he says. "If you're not going to communicate, you better make sure you can withstand being thought in the marketplace as guilty."