Alumni
Nick Siler, SPA/BA '01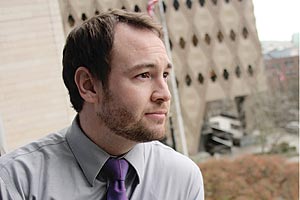 The tiny town of Pineville sits about as far southeast in Kentucky as you can get in Appalachia, and as a boy, Nick Siler couldn't wait to get as far away from it as possible.
His journey took him first, against all probability, to American University, then around the world, before a curious thing happened: Siler began yearning for home.
"I was on the twelfth day of a 16-day hike in western Nepal, and I had this revelation," Siler, 31, says. "We have to go back to Kentucky. Growing up I didn't have the institutional support of anyone else in the area. Going away to college wasn't culturally a thing you do. I wanted to come back and be supportive for the youth there. My idea was to create an organization that would revitalize Pineville."
Siler was the first member of his family to go to college, and one of only two students in his high school graduating class of 216 to leave the state to attend a university. He desperately wants others in Appalachia to experience what he did at AU, so when he returned to his hometown, he took over Downtown Pineville, a dormant nonprofit, and began working to effect change there.
The organization began holding workshops for middle- and high-school students to educate them about college. It also reopened a community theater, where it sponsored performances and showed films about social justice.
But after three successful years, Siler began thinking he needed more experience in the nonprofit world. He went to Vermont where he earned a master's degree in social justice and intercultural relations from the School for International Training. That led him to Seattle, where he now works as curriculum development manager for OneWorld Now!, a global leadership after-school program.
"We work with historically underserved youth in Seattle,"
he says. "The world is getting smaller and smaller and smaller, and people from vastly different social identities are coming together more rapidly now. We want to create more intercultural understanding."
Siler's ultimate goal is to return to Appalachia, the place he once so pined to flee, and continue working with youth. His dream is to one day open a charter school.
"Growing up my personality didn't fit the culture," Siler says. "I rejected bluegrass music; I rejected my family's experiences in the coal mines. But I've come to really embrace that part of me, and understand that it's important where I come from. I want to create a place where you learn about your heritage but also think globally. Thinking globally and acting locally."