Law
A Creative Commons Protects Property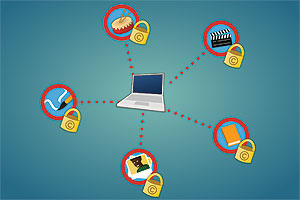 The dawning of the digital age has led the arts and the law to a crossroads, and Washington College of Law professor Michael Carroll is helping direct traffic.
A teacher, scholar, lawyer, and a founder of the landmark nonprofit online licensing site CreativeCommons.org, Carroll has immersed himself in cyber law, an umbrella term for the myriad ways the law responds to the Internet.
"I want these bodies of law to do their job properly," he says. "Intellectual property law has a job to do in society, and it's generally to promote the progress of science and useful arts. We've always known that progress requires a balance of interests.
"The speed of technological advance makes it hard, because even if we get the balance right, it's yesterday's balance."
Seeking to bring some order to the Wild West of information on the Internet, Carroll cofounded Creative Commons in 2001. The nonprofit creates online legal and technical tools that enable people to copyright their work for free.
"Copyright is automatic. You have to do something to change the deal. We wanted to make it quick and easy for creators to let the world know, hey, I'm sharing this, but I want to keep a couple of rights."
Creative Commons' copyrights have become ubiquitous on the Web. There are more than 200 million links to its license page, and in 2008 President Obama's campaign page used one of the organization's copyrights.
"We're now up to about 50 countries," Carroll says. "There's a whole network of people who see the value of open content. For me there were different moments of fulfillment. The first one was when the New York Times started telling people their content was under a Creative Commons license."
The organization now is delving into the worlds of education and science, hoping to make it easier for people to share their research in a legal manner.
"This is as powerful as the introduction of the printing press. It changes the way we communicate, it changes the way we think. It's thrilling."