On Campus
All We Are Saying Is Give Peace a Chance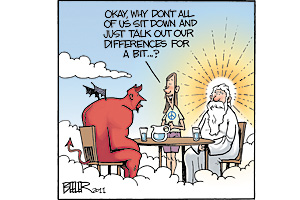 If anyone could bring these two protagonists together, it would be an AU peace wonk.
We don't know how many graduates of the School of International Service's International Peace and Conflict Resolution Program are working inside the Pearly Gates, but the 200 students currently pursuing master's degrees could follow in the earth-bound footsteps of earlier grads.
IPCR alums can be found at work in national and international organizations that focus on resolving and avoiding conflict, as well as promoting international interchange and understanding. Here's a sampling of organizations where you might run into an AU peace wonk:
•   United States Institute of Peace
•   Woodrow Wilson International Center
•   World Bank
•   Nonviolence International
•   Carter Center
•   Refugees International
•   Truth and Reconciliation Commission of Liberia
•   Doctors Without Borders
•   Save the Children
•   USAID
Peace is in the forefront of many people's minds at AU. As Washington Examiner cartoonist Nate Beeler, SOC/BA '02, knows, no situation is without hope.