Student Life
Phi Sigma Kappa: Now and Then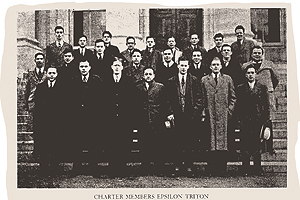 Their dress may be a little less formal, but 72 years after becoming the first national fraternity chartered at AU, Phi Sigma Kappa's presence on campus remains the same.
The black and white photo was taken on the steps of Hurst Hall on November 15, 1936, the day of the fraternity's AU birth. The 2007 initiate members gathered on the those same steps for a photo last fall.
"I still get together with some of the guys from my time, and I'm active with the present chapter," said Dick Taylor, an officer in the fraternity from 1948 to 1952. "You make great friends for a lifetime."
After 72 straight years, through wars and peacetime, Phi Sigma Kappa's existence at AU has been a constant. It seems a given that AU's first fraternity will remain a fixture on campus for the next 72 years, so the only real question remaining is, what will the young men in the class of 2080 be wearing when their picture is taken on the steps of Hurst Hall?