Science
Germ Cultures, 1946 and 2007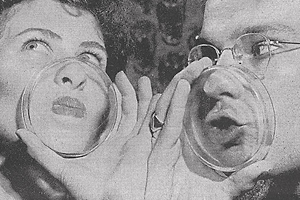 Bob and Mike didn't mind kissing in public. John "Bob" Harrison, CAS/BS '48, had just returned from World War II when a Life photographer came to the classroom where he was studying with the girl he'd left behind, Muriel "Mike" Adams, CAS/BA '46.
The biology students coated glass plates with a nutrient agar base to reveal any germs. Life photographed students kissing the plates and each other. When the June 10, 1946, magazine came out, "Both of our mothers said, 'Oh, heavens!' They were just appalled," recalls Mike.
But she wasn't embarrassed. Bob had left AU "to go with General Patton on their little walking tour of Europe," she recalls. The returning D-Day veteran and his biology partner wed a few months after the Life story and moved into married student housing behind today's library.
"I cooked on a hot plate, but we didn't need anything more," she says. "I didn't know how to cook a thing in the world anyway, except scrambled eggs and bacon, lettuce, and tomato sandwiches. But Bob was good and patient, and obviously we survived."
He also learned a lot in biology, becoming a biology professor at the State University of New York at Oswego. Another future biology professor in that class was Maggie Long May, CAS/BA '46. "It made you realize there were germs everywhere," she says of the experiment. "Really, you could touch anything to it and you'd get bacterial growth." Retired in 1990 from Virginia Commonwealth University, May teaches science classes at her retirement community.
In 2007 the media still comes calling. More than 60 years after the Life story, microbiology students tested ice gathered at area restaurants for a United Press International (UPI) reporter.
All the samples were free of bacteria. Perhaps that's because no one kissed the ice. Harmless everyday germs were found in the 1946 samples, particularly those kissed by the women, which Life attributed to their "regular use of powder, face cream, and lipstick."