Education
Hometown Heroes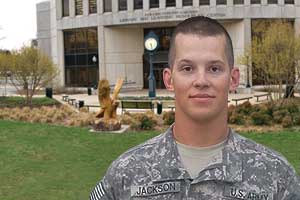 They served our country, and now it's our turn to help them.
This fall, AU will help 18 post-9/11 veterans fund their education as part of the Department of Veterans Affairs' new Yellow Ribbon Program. Benefits for the 4 undergrads, 10 grad students, and 4 law students range from $8,900 to $13,750 for three to four years.
The VA will match the funds, enabling the vets to attend AU at virtually no cost.
"Dating back to World War I, AU has a long-standing tradition of supporting America's military efforts," said Provost Scott Bass. "The Yellow Ribbon Program is a wonderful testament of AU's support for veterans and is a natural partnership for an institution with a deep commitment to serving the public interest."
Created in 2008, the program enables U.S. colleges and universities and the VA to share tuition expenses that exceed the highest public in-state tuition rate.