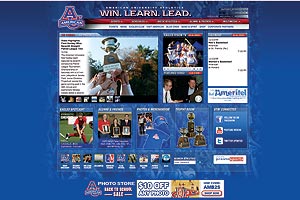 American University Athletics has a new online arena.
Featuring increased video capabilities and a sleek, compact look, the new AUEagles.com launched Sept. 9.

"The look of the site reflects some of the new branding initiatives that we've gone through as a department over the last several years," said David Bierwirth, senior associate athletic director. "The real highlight of the site is that it's compact and user friendly."

Visitors to the site immediately will notice the large "hero" image, a vibrant photo paired with a story about one of AU's teams or the people that comprise them. Eight photos and stories continuously scroll through this main section.

Also featured prominently near the top of the page is Eagles Vision TV, AU's subscription-based package that broadcasts games online. New this year is the capability to show both men's and women's action from Reeves Field.
"We've invested a lot of time and personnel in video," Bierwirth said. "Our ultimate goal with all the video that we're shooting is to have our own channel, someplace you can go night and day year round for all the games and behind-the-scenes footage of American athletics."
The launch marked the culmination of lots of hard work by people throughout the university, Bierwirth said.
"Our staff has done a great job in terms of getting all the content on the site," he said. "Also, the help of University Communications and Marketing was key."
Displayed prominently across the top of the homepage is the department's slogan: "Win. Learn. Lead."
"One of the things the prominence of video is doing for our campus is giving great learning opportunities to our students," Bierwirth said. "We have several student-athletes, kids who are studying in [the School of Communication] that are here manning the cameras, doing everything from camera work to production work to director work to post-game editing and on-air broadcasting. It also gives our alumni another way to connect to our student-athletes."