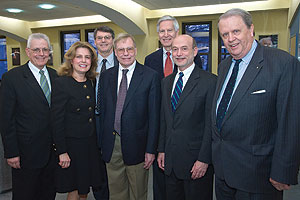 What does it take to rise to the rank of ambassador? Five alumni of the School of International Service who can be addressed as Mr. or Madam Ambassador shared tips and tales from the diplomatic trenches with students who hope to follow in their globe-trotting footsteps.
The countries where these SIS alumni have held the top American post is a C to Z list—Chad, Costa Rica, the Marshall Islands, Paraguay, Togo, and Zambia—spiced with an even larger sampling of places where they've served on their way up the ladder, from Paris to Morocco.
"It takes skill, luck, and in some cases, having the right friends in the right places," says a candid Curtin Winsor, SIS/MA '64, PhD '71, who was ambassador to Costa Rica.
It also takes the ability to speak well, write well, and act as a "good traffic cop" to keep competing agencies on track. A good foreign service officer also knows how to work a room, as these diplomats showed when they circulated among students, learning about the students' goals and sharing career advice.
Today's foreign service officer hopefuls are graduating at a time when the Obama administration is funding some 3,000 new positions in the State Department—"numbers you're not going to see in the future," the diplomats agreed.
Competition for those slots will be tough as always. But AU graduates have an ace in the hole: "You are all at a very good place," says Clyde Taylor, SIS/MA '61, and later ambassador to Paraguay.