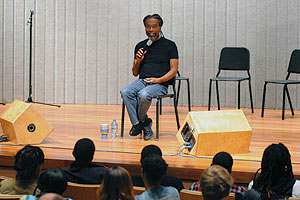 One of the world's best-known vocal innovators and improvisers, Bobby McFerrin, shared the joy so clearly evident in his music during a lively workshop and interview as part of the College of Arts and Sciences' Arts 360 initiative.
Standing alone on stage, as he often does when he performs throughout the world, McFerrin discussed his philosophies of music, life, and art while peppering in spontaneous bursts of song. With no band behind him or instrument in his hand, McFerrin used his body, mind, and spirit to make music.
"For me performance doesn't really exist," says McFerrin, whose recordings have sold more than 20 million copies. "Music to me is here, now, and always different."
Anyone who has followed his remarkable career has seen that. McFerrin won his first Grammy in 1985, and then exploded into international superstardom with the 1988 release of "Don't Worry, Be Happy," which hit No. 1 on pop charts around the world.
Instead of cashing in on his commercial success, he took an 18-month sabbatical and embarked down new musical paths. He began studying classical music and developing his love of improvisational singing.
In 1994 McFerrin became creative director of the St. Paul Chamber Orchestra, and since then he's conducted orchestras around the world. Yet on stage at the Katzen Arts Center, he displayed no ego. Instead, he offered words of encouragement to budding young artists, and as is his staple, transformed the audience from passive observers to active participants.
"I always felt as an audience member that I wanted to do more than just listen," he says. "I have never done a performance where the audience was not ready to sing."