Arts
Windows to a Culture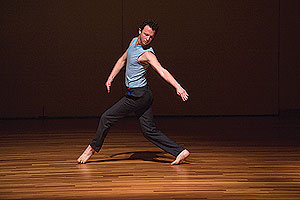 What do we see when we look at a dance?
In February, Idan Cohen, a renowned Israeli dancer and choreographer, met with Professor Nina Spiegel's history students, held a master's class for dance students, performed an evening of dance, and shared the stage with Spiegel in a discussion of how the edgy, modernist feel of Israeli dance grows from and reflects the country's history and identity.
---
"As Jews came to Palestine, they wanted to create new forms of expression. It was part of the idea of creating a new society and a new Jewish image—of a strong, tough Jew in contrast to the Semitic image of the time.

"That idea of people leaving their homes and wanting to start a new life became a strong strain within Israeli history and society, and you see it in the dance. It's bold."
— Nina Spiegel, Schusterman Teaching Fellow in Jewish Studies
"There's something unique that came out of our historical background. There is a search for a new movement, a language, new aspects of art. It's a beautiful thing, because it shows a different aspect of Israeli society—the people we are as artists, with things to say that are sometimes an alternative to what you see in the news."
— Idan Cohen, Israeli dancer and choreographer