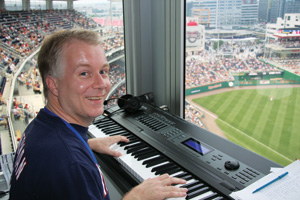 Matthew Van Hoose always has harbored a passion for music and baseball. This season, the Department of Performing Arts musician in residence is the stadium "organist" at Washington Nationals baseball games. 
Can you say dream job?
While his organ actually is a synthesizer, the joy with which Van Hoose plays it—and roots for the Nats—is 100 percent genuine.

"It's work, but it's absolutely fun," says Van Hoose, who is perched in the press box high above home plate. "It's a perfect view. I can pay attention to what I'm doing, but you still can follow the game like a fan."

Van Hoose works in concert with the stadium's DJ. He is not permitted to play during the action, so he bangs out most of his songs between at-bats and innings, or during pitching changes.

In addition to the usual slate of rally prompts, he mixes in tunes from the worlds of Motown, classic rock, and even contemporary pop. When Ryan Zimmerman makes a nice play in the field, Van Hoose plays "Use Somebody," the star third baseman's favorite Kings of Leon song.

Despite an influx of in-stadium entertainment (B.S.S.—Before Stephen Strasburg—the presidents race was perhaps the Nats' biggest draw), organ music has remained an essential part of the game-day experience.

"So much of baseball is rooted in tradition," says Van Hoose, who provides vocal and instrumental coaching to AU students. "The DJ does a great job, the scoreboard's great, but [organists provide] the feeling of an old-time baseball game. There's some spontaneity when you have live music."