Student Life
Making the Grade: A 2010 National Survey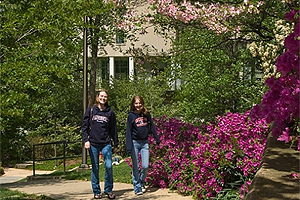 The results of the 2010 National Survey of Student Engagement are in: American University students are scholarly, resourceful, global, curious, passionate, and active. But you knew that.

AU scored significantly higher than the nearly 600 participating colleges and universities across five benchmarks: academic challenge, enriching educational experience, active learning, student-faculty interaction, and supportive campus environment.

Among first-year students:

74% discuss ideas from coursework outside of class
66% write five or more 5-19 page papers
82% say AU places substantial emphasis on academics
83% participate in co-curricular activities
By senior year:

87% have completed an internship
83% frequently ask questions or contribute in class
74% have done community service
69% have taken a foreign language
91% have discussed career plans with a professor or advisor
21% have done research with a faculty member
AU's results are based on responses from 952 seniors and first-year students.