Research
Untold Stories: The Black History of the White House
By Adrienne Frank
April 22, 2011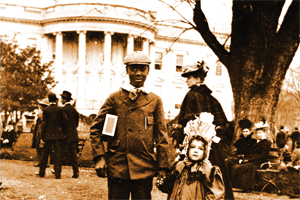 You might not know her name, but if you've browsed the First Ladies Gallery at the Smithsonian National Museum of American History, you're familiar with Elizabeth Keckly's work.

A former slave turned successful seamstress, Keckly sewed stunning gowns for some of Washington's most famous wives—most notably, Mary Todd Lincoln. Named Mrs. Lincoln's personal dressmaker in 1861, "Lizzy" was more than the first lady's stylist, she was her closest confidante and constant companion after President Abraham Lincoln's assassination in April 1865.

Keckly, who also designed dresses for the wives of Jefferson Davis and Robert E. Lee, created Mrs. Lincoln's inaugural gown among many others. (The first lady was known for her extravagant spending and spectacular wardrobe.) Keckly wrote about her time with the first family in Behind the Scenes or Thirty Years a Slave and Four Years in the White House, an intimate and insightful work that permanently strained her relationship with Mrs. Lincoln, who felt betrayed by its publication.

While the women forged what AU political scientist Clarence Lusane called "one of the most unique friendships in American politics," Keckly's story is all but omitted from the history books. Lusane, a professor in the School of International Service, aims to change that in his new book, The Black History of the White House.

From slaves who built the White House to servants who worked in it, Lusane gives voice to those whose stories have, until now, gone untold. Through the experiences of people like Keckly, the book traces the ways in which slavery, emancipation, racial violence, and civil rights have shaped the U.S. presidency.

"I unearthed these great narratives and felt driven to share them," says Lusane, whose book received a glowing review in the February 18 Washington Post. "Oney Judge was a young, black woman enslaved to George Washington who escaped. Her desire for freedom was so great that she fled, knowing that Washington could and eventually would send people to find her.

"You go from that experience to the Obamas in the White House as the first family. Most people in this country don't have a sense of that journey, because so many of those voices have been erased from history."