International
Spreading Peace: Corps Celebrates 50 Years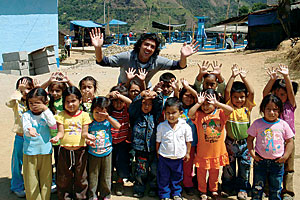 On March 1, 1961, President John F. Kennedy signed an executive order that established the Peace Corps. Twenty-eight days later, American University jointly hosted, with Americans Committed to World Responsibility and the National Student Association, the National Conference on Youth Service Abroad.
Held in the former Cassell Center gym (site of the Katzen Arts Center), the three-day event drew students from across the country. Sargent Shriver, the agency's first director and visionary leader, called it "a milestone in the history of the Peace Corps."
Over the decades, AU continued its involvement in and commitment to the program, serving with six other D.C.-area universities as a training center for Peace Corps volunteers. Ernest Griffith, founding dean of the School of International Service, chaired the Inter-University Peace Corps Policy Board, which planned programs to train volunteers in the language, culture, and economy of their assigned country, as well as in the fundamentals of the United States government.
A half century later, the connection is stronger than ever. In fall 2010, SIS launched a master's international program (MIP) that combines course work and overseas service (joining the College of Arts and Sciences pioneering TESOL MIP, which pairs courses in linguistics, culture, and education in the Teaching English to Speakers of Other Languages program) with an internship completed during Peace Corps service.
"We need [AU] because we want to have a strong and engaged Peace Corps for the next 50 years," said Peace Corps director Aaron Williams. "This is a natural partnership."

A special exhibit at Bender Library highlights the early history of the Peace Corps; it is on loan from the University of Michigan through September 2011.


Peace Corps by the numbers:

AU is #4 among medium schools producing Peace Corps volunteers

819 alumni have served to date
Currently 55 alumni serve