Government & Politics
Ladies First: SPA Offers Glimpse Inside the White House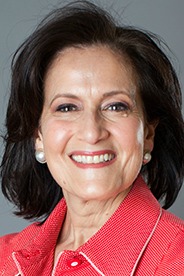 HELP WANTED
Most powerful nation on earth seeks First Lady. No previous experience necessary. Willingness to relocate to Washington, D.C., a must. Work from home opportunity. Employer seeks the impossible. Willingness to undergo scrutiny as the most famous woman on the planet 24/7 in all areas from fashion to positions on peace in the Middle East.

Benefits include travel to exotic, war torn and disease ridden destinations, and round the clock security by men and women living at your home for the rest of your life. Minimum four-year commitment. Apply in person at White House, 1600 Pennsylvania Avenue, NW, Washington D.C. The United States is an Equal Opportunity Employer.
Excerpted from a mock ad written by John Heubusch, president of the Ronald Reagan Presidential Foundation, read by Anita McBride at "The Legacies of America's First Ladies" conference.


From Martha to Michelle, America always has been fascinated by its first ladies.

Historians, academics, and people who worked on the front lines in the East Wing of the White House examined the job and the women who filled it, March 1, at a conference sponsored by the School of Public Affairs. Insightful panels sprinkled with delicious fly-on-a-wall stories left the audience with a clear sense of the pressures and complexities of the position.

"For 200 years America has been electing presidents and coming to see first ladies," said historian Richard Norton Smith. "Some first ladies are recalled as gracious hostesses, others have used the platform for social or political causes. Make no mistake—being first lady has never been a bed of roses."

Susan Sher and Melanne Verveer recalled how they got to know Michelle Obama and Hillary Clinton privately, not simply as public figures.

Clinton once threw on "crummy clothes" and a baseball cap so she could go for a walk without being bothered. It worked—kind of. When someone approached her and told her she resembled Hillary Clinton, "she said, 'I've been told that' and kept walking." Verveer said.

Obama misses shopping at her favorite Chicago Target. "It is an unusual way to live," Sher said.