In the Community
Three-Alarm—Make that Three-Star—Pork Chops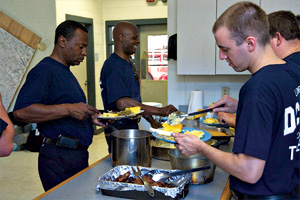 The alarm at Washington's Engine 20 firehouse on Wisconsin Avenue sounded, and a red light lit up the room. Quickly firefighters began to assemble, anxious for what was next.
A voice came over the P.A. system.
"Dinner's ready. Let's eat."
At fire stations around the country, food is a family affair. Every day the firefighters gather for home-cooked breakfasts and dinners made with every bit the passion—and often the skill—found in professional kitchens. Those lucky enough to work on Danny Faison's shift at Engine 20, the company that serves the American University campus, eat like kings.
"I love to cook," says Faison, a 21-year veteran. "My grandfather taught me. He cooked Sunday dinners for years. Two meats, two starches and one vegetable. He told me, 'make sure you can always provide for yourself.'"
Faison has taken that advice to a new level. During his shift — firefighters work 24 hours on, 72 off — he prepares elaborate meals such as stuffed rockfish, lamb chops, and Hawaiian chicken with fried cabbage for 14 to 16 of his coworkers. Each firefighter kicks in $10 per day for a hot and hardy breakfast and dinner.
A Washington native and second-generation firefighter, Faison also runs a catering company. On one of his days off from the station he shops at Costco or Sam's Club, then spends much of his free time during his shift preparing the meals.
On this 98-degree June day Faison labors near the gas grill behind the station, flipping honey-glazed pork chops that have been marinating overnight. His attention to detail is acute — he constantly plucks chops from the grill, reapplies sauce, and lays them back on the rack.
His grandfather, Joseph, taught him to "cook with your eyes," so he works without recipes.
At 5:35 the chops, homemade cornbread, potatoes au gratin, rice, and his "mean green" beans are ready. Then the inevitable happens.
Not two seconds after the final dish is placed on the kitchen counter, the alarm sounds. Dinner often is interrupted by work, so when firefighters have to leap into action, a coworker covers their plates with foil.
Faison and his mates from Truck 12 return a few minutes later — false alarm.
The meal is served buffet style, and after loading up their plates the men settle into cushioned desk chairs surrounding two conference tables in the lounge. There's little conversation while they eat; most eyes are focused on the Nationals baseball game on the flat screen. It's most men's dream dinner scenario.
The skin of the pork is flavorful and crisp, the meat light pink and tender. The cornbread is moist, the beans spicy.
"It's delicious," says firefighter Patrick Swenson. "We've had quite a few incidents where other people tried to cook. We ruined spaghetti; we made some scrambled eggs that tasted like plastic. If you want the food to be any good, you want Danny to do your cooking."