International
Borscht and Oxtails for a Good Cause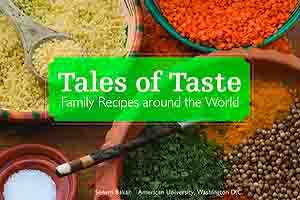 What's cooking at AU? Well, for starters, there's borscht from Russia, rice with peanut sauce from Mali, shish kebab from Lebanon, and oxtail soup from the Caribbean. Just like mother makes at home.
Tales of Taste: Family Recipes from Around the World is a taste of AU that helps feed a good cause, since sales of the compilation of favorite recipes from the AU community will also help international students.
Proceeds support emergency needs of students who aren't just far from their families' kitchens, they're also far from family help if they run into a financial crisis. Natural disasters, civil war, the devaluation of their country's currency, or the death of a parent can leave students short of cash when they need it most.
The fund lends students in good academic standing small amounts of money to help them through temporary hardships.
Every recipe has a story, and the stories are rich with the flavor of the AU community.
The cookbook is $20. To purchase a copy, contact Senem Bakar at 202-885-3352.