On Campus
Engaging America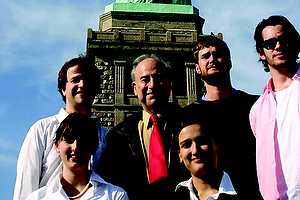 Professor Akbar Ahmed and five students are traveling across America on a yearlong voyage to learn how Muslims fit into contemporary American society, and how the ideals of pluralism, openness, and cultural integration hold up in post-9/11 America.They'll visit more than 30 towns and cities between September 2008 and September 2009, blogging as they go.
Already, they've made an impact. In October, they posted a story to their blog about Somali workers who lost their jobs at a meat-packing plant over the right to pray during Ramadan. A week later, stories on it appeared in USA Today, the Wall Street Journal and the New York Times, and CNN posted their report as an i-Report.
Late October found the travelers in Boston, where they spoke with Noam Chomsky about one of the key topics they're exploring: American identity. Then it was off to Palmyra, New York, birthplace of the Church of Latter Day Saints, and across the country to Salt Lake City to explore the Mormon faith.
Ahmed, a former high commissioner of Pakistan to Great Britain, is regularly interviewed on CNN, CBC, and the BBC and has appeared on the Oprah Winfrey Show and Nightline. He holds the Ibn Khaldun Chair of Islamic Studies at the School of International Service.
The journey is chronicled in the blog.
Their i-Report can be found here.