On Campus
You Heard It Here: KPU at 40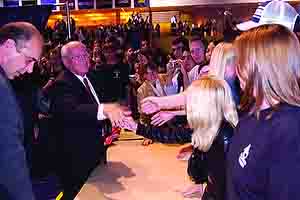 The roster reads like a who's who of the past four decades of world history. Buzz Aldrin and Benazir Bhutto. The Dalai Lama and Desmond Tutu. From Strom Thurmond to Colin Powell, George McGovern to Mikhail Gorbachev, Newt Gingrich to Joe Biden, the Kennedy Political Union has brought AU students face-to-face with the people who shaped the end of the twentieth century and have begun crafting the twenty-first.
As the student-run organization celebrates its 40th anniversary this semester, it has entrenched itself as one of Washington's most important collegiate institutions. Sponsoring about 20 events each academic year, KPU brings the biggest names from around the globe to campus to examine the triumphs and failures they've celebrated and endured in the highest levels of the professional world.
Created in 1968 to establish a stronger link between AU and the halls of power downtown, KPU was named for the Kennedy family to acknowledge their service to the U.S. government and to society. Theodore (Ted) Sorensen, an aide to both President John F. Kennedy and Robert Kennedy, was the inaugural speaker.
Bill DeBaun '09, current KPU director, said that today's organization has evolved from a casual format—"When speakers first came, they would be interviewed by three or four students on a stage"—to a formal lecture followed by a question and answer session.
Over four decades, A-list speakers, such as Madeleine Albright, Bob Woodward, Oliver Stone, and Antonin Scalia, have addressed audiences. Two Kennedys, Sen. Edward Kennedy and Robert F. Kennedy Jr., have also have delivered speeches.
"If you speak with a lot of alumni, one of their memories from being on campus is hearing some kind of speaker. I would venture . . . nine times out of 10, that speaker was brought here by KPU. In a very real sense we fulfill the original mission of putting American University students in contact with power players in Washington," said DeBaun.