Campus News
New Alumni Leader Welcomed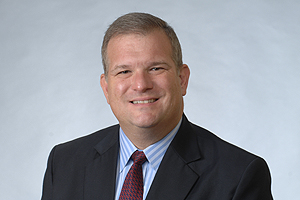 For Thomas Minar, AU's new vice president of development and alumni affairs, philanthropy comes from passion, and giving comes from the heart.
"If you build people's sense of passion for what you're doing in your philanthropic organization, eventually they'll give. It's a natural, it's sort of organic," he says. "That's not to say we can't do marketing; we have to ask, but it still comes from the heart.
"There's a lot of passion here. We have to find the connection—find ways to motivate AU constituents to come into the community and then to have passion."
A political scientist by training, Minar comes to AU from Chicago's Roosevelt University, where he served as vice president for institutional advancement, and as special assistant to the president.
He's struck by the similarities between his new professional home and Roosevelt, which was founded in 1945 to educate people who were denied access to an education because of skin color and religion. Minar explains that certain parts of AU "were founded to provide for a particular need, and the university has been called upon by the public sector to meet some of those needs."
The Pomona College graduate, who now sits on its Board of Governors, has spent his entire life in academe. Minar holds a doctorate in political science from Northwestern University and a master's from the Kellogg Graduate School of Management at Northwestern, and comes from an academic family.
"This is the kind of culture that I function in," he says. "I believe that education is the opportunity for people to improve themselves and the world around us. Steps I've taken in my own training, career, and personal life are all rooted in my belief and understanding of, and love for a life in higher education."
In his new position, Minar will oversee all of the university's alumni relations programs and fund-raising efforts, including the $200 million AnewAU campaign. In 2008, AU president Neil Kerwin announced that the campaign had reached 85 percent of its goal—more than $170 million.
"We hope that the economy doesn't change our ability to close sooner rather than later. And we will celebrate when we do close it," says Minar. "The community needs to celebrate its own success in doing something that it set out to do."