On the Quad
Environmental Agenda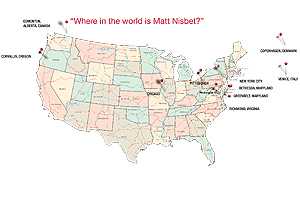 The mission: simply stated but not easily executed—make science matter.
School of Communication professor Matthew Nisbet has traveled the globe, helping journalists, scientists, policy makers, and activists create messages about environmental issues that will resonate with the public and spur them to action.
One major hurdle: fewer and fewer media outlets employ science journalists—or even give the subject any play.

"When a newspaper doesn't cover the local implications of debates over science and technology, that causes major information gaps," said Nisbet, who recently returned from the EU Conference on Science Communication in Venice, Italy.
A proposal: public television and radio stations could team up with universities, museums, and nonprofits to produce content about emerging research, local regulation, and policy debates.
"Media is an important part of our community infrastructure. If we don't have important sources of information at the local level, then we don't have the infrastructure to deal with these problems on a larger scale." —Matthew Nisbet

Follow along with Nisbet's travels on his blog.