News
New Site Launches, Will Change AU Communications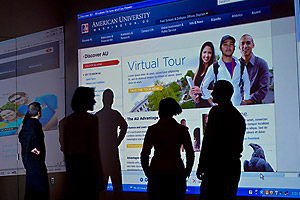 Virtual tours. Wiki pages. Web 2.0. The language of today's high school and college students has a technological twang that could leave all but the most tech savvy a step behind. American University now can say it speaks the students' language. On March 30, AU launched a redesigned Web site that features a virtual tour of the campus, an AU wiki system called AUpedia, a master events calendar, and all of the bells and whistles of a 2009 site.

"For many audiences, particularly the external ones, this is the front door of the university," says Terry Flannery, executive director of communications and marketing. "It is going to allow people to access the university from points near and far. Internally, the site is more like our new public town square, where people can come together to share news, applaud successes, or gather in a crisis."

The new site, designed by the New York-based strategic Web design firm HUGE, is a complete visual and content overhaul of the existing american.edu. More than 5,000 pages were created or redesigned and migrated for the launch. The cornerstone of the new site, the home page, features 13 rotating stories—with photographs—that tell the story of American University. A "newswire" is the AU equivalent of the CNN ticker, displaying university news in real time. And a university-wide calendar keeps the community informed about events on campus or off, from a basketball game to a weekly speaker series to commencement.

"I think students are craving a Web site that broadcasts what AU is to the world," says student government president Seth Cutter, who was a member of the Web Calendar Committee. "We are on campus day in and day out, experiencing classes, athletics, clubs, arts—everything that defines AU. Our old Web site didn't reflect our values and our reputation . . . Students want a Web site they can be proud to share with friends and family."

As with all things on the Internet today, sharing is essential. Whether it's between students and friends, faculty and staff, or SPA and SOC, the new site utilizes Web technology to foster content sharing across the AU publishing community. To create that functionality, AU turned to content management system developer PaperThin and Web technology consultant firm North Highland. PaperThin's content management system, CommonSpot, makes creating and sharing content and site management easier, and provides an organized process for regular updates. North Highland assisted with staff training and the planning and creation of content that could be used across several departments within the university.

One example of content sharing is the master events calendar. If a university event is sponsored by two schools, it appears on the home page calendar and is automatically displayed in the events section on both school's landing pages. A global Web page footer that includes the events calendar, news, and AUpedia appears at the bottom of most internal pages, with content filtered for relevance to each school's pages.

No matter where someone enters american.edu, they can find up-to-date information for that school or department. But what if they can't find what they want? An enhanced global search lets site visitors locate information as fast as they can say Google.

Another feature, a virtual tour created by RealViewTV, lets prospective students open a three-dimensional campus map. "My 5 Faves," a section of the virtual tour, gives students a special tour guided by a student, a faculty member, or an alumnus who show viewers their favorite spots on campus.

All of the Web 2.0 elements created to enhance the user's experience are the result of more than two years of research and analysis. The Web project began in the summer of 2006 with the creation of a university Web Advisory Committee. That committee, comprising faculty and staff, studied what all possible audiences look for in a Web site. In March 2007, the university turned to HUGE to analyze the current site and produce a new vision for american.edu. HUGE, which has redesigned sites for Ikea, Scholastic, and Columbia University School of Journalism, created a seven-step plan for the complete visual and structural redesign. PaperThin and North Highland were then brought in to help the university execute that plan.

"We have gone about this process by finding our needs, finding vendors to help us, and including all corners of the campus to help us in the project," says David Taylor, the president's chief of staff. "That has been important in bringing the entire campus together as a community."

The project required well over 25,000 hours work by more than 125 AU staff members in 20 departments across the university before coming to fruition on March 30. "It has touched virtually everyone in OIT. In the last few weeks and months, people have been working around the clock.  There is not a night or a weekend that people aren't in the office," said David Swartz, Chief Information Officer. 
After years of planning, training, and work, AU's Web presence has vaulted into a new era.

The new american.edu is a place where alumni who have never heard of a Facebook status bar can share information and ideas with a student who knows that Myspace is yesterday's news. With a new online home, prospective students and the entire American University community—faculty, staff, students, and alumni—are on the same (Web) page.


Web Launch by the Numbers
Well over 25,000 hours of AU staff work went into the launch.


More than 125 staff members worked on the project across 20+ departments and units.


More than 5,000 pages were migrated or created for the redesigned site.