Academics
An American in Prague: Part III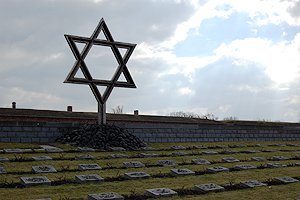 Gail Humphries Mardirosian, CAS professor, is in Prague on a Fulbright scholarship to direct a long-lost play written by prisoners at the Terezin concentration camp. Her work includes teaching acting at Prague's Academy of the Performing Arts and engaging AU students in the play and Prague's cultural life.
Check back with 'Off Ward Circle' for more stories as Mardirosian shares her experiences over the next few weeks.
April 6, 2009 - Magical and mysterious Prague continues to beckon and surprise. There have been so many wonderful happenings since I last wrote. 

Theatre alumni visited me here - two former students who have continued to be near and dear to me. One lives in America and is a very successful business theatre entrepreneur, while the other is quite a musical theatre star in Germany.  In addition, we were joined by the young daughter of one of these alums. It was great it was to see Prague and dance the streets of this glorious city through the eyes of a child. One of my favorite photos to date was a spontaneous shot taken on our way into the Old Town Square. We shared a very short and intensive visit, recalling our work on CABARET at American University years ago. We pondered the passage of time, spoke endlessly about theatre and our shared belief in the arts, and thrived in this great environment.  It was chilly and foggy at night and the brisk air just seemed to fuel our dialogue and allowed for another of my favorite Prague photos.

I continue to receive feedback from the students who visited and shared Prague during spring break. They seem to have been deeply impacted by the various artistic experiences while they were here, either as participants in workshops, or as observers watching the inspiring creation of art.  

Voices of Terezin

Then, there are rehearsals for the Voices Of Terezin project. I continue to imagine the possibilities. The entire process is endlessly challenging and rehearsals are simply fascinating.  Sometimes we all literally do speak the same language of the arts and other times we have English and Czech going simultaneously and full force as we discuss motivation, the meaning of the characters, this important piece and artistic choices. My mantra as the director continues to be one that says keep your eye on the course. I know that the shape will unfold as it should as we continue to rehearse. The play is striking and powerful and we marvel that two young men, incarcerated at Terezin, could have possessed such vision and understanding of the world around and beyond their immediate one.

'Beautiful for students and teachers'

The presentation on my research and practice of arts education in the U.S. for students and faculty occurred at Charles University. It was the slowest that I have ever spoken in my life, because the professor who hosted me requested that I speak slowly in order for her students to understand my English. The education students were great and it was a magnificent time of sharing. Their questions were on target and very interesting. One student surprised me when she asked about obstacles for the use of arts integration in America. She said that this approach of using the arts as a strategy for learning seemed to be quite 'beautiful for students and teachers," but she wondered if I had encountered any obstacles with the Imagination Quest project that I was sharing. What an amazing question, really. The road to acceptance of the arts in education in America, whether as a tool for learning across the curriculum or as discrete subjects, is laden with obstacles. I often feel frustrated by them. It delighted me that this frustration didn't read through in my presentation because the positive nature of the arts as a change agent in education and as a giant for educational reform is the key. At the end of my presentation, the hosting professor gave me a beautiful photograph of the Karolinum where I had seen the commencement last month and an exquisite medal from the University that is given to outstanding teachers.  I was deeply touched and I cried.

I also had an inspiring visit to the University of Goteborg in Sweden last week. Presenting master classes to musical theatre and opera students in their conservatory was a splendid experience. Yet, again, I was reminded of the charge and challenge of the artist that exceeds any geographic boundary. I was also reminded of how exciting teaching truly is when the student is ready, eager and a sponge. I returned exhausted and exhilarated, having received and given much. Augusto Boal, a theatre practitioner for who I have great admiration, once wrote that "Theatre is the art of looking at ourselves." It is fascinating to see ourselves in others and vice versa and then to see and understand the particular and the universal in and through the arts.

I am still climbing the rugged 98 steps to my apartment!  However, I feel as if I have reached the first level in the climb with ease and regularity in this metaphor for my residency in Prague.  There is a welcome mat on the second story that says HOME in English. When I reach that level, I know that I am halfway up the climb and it is a greatly appreciated sign. I haven't reached it yet metaphorically, but I am moving upward and the journey is extraordinarily exciting!