Academics
SOC Classes Partner With Gannett on Media Research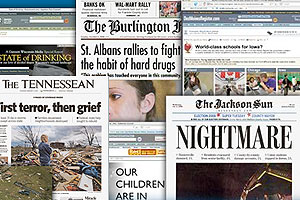 What can the country's largest news organization learn from students at the School of Communication? A lot, it turns out. Gannett executives advanced their understanding of the online world this year by enlisting the research skills of students and faculty from two SOC classes.

Professor Rick Rockwell and graduate students in the News Media Studies Program analyzed the use and effectiveness of both professional news videos and consumer videos posted on Gannett's TV station Web sites.

Undergraduates in the class on Writing for Convergent Media, taught by veteran Gannett editor Amy Eisman looked at how readers interact with stories and each other through the anonymous and often fiery comments sections.

What they found may help Gannett make decisions about the digital side of its news business, which is still a world marked by more foment, fear, and hoopla than data-driven research.  
Real-world partners

The courses were the latest examples of a growing number of partnerships between Gannett and SOC. The projects grew out of meetings last year in which SOC and Gannett discussed new ways to collaborate and pool resources to benefit both today's changing newsrooms and tomorrow's journalists. They led up to presentations to key Gannett executives.

Rockwell's students analyzed the Web sites of established TV news stations for his course on Research Studies into Online Video. The sites are packed with videos, but students were asking a key question: which videos are most effective, and which aren't worth the click or the resources?
    
Student researchers found that not all video is created equal. When video goes online, whether it's professional or amateur, it should do more than echo the text of a news story. It should add something extra – inside footage of a news event shot on a cell phone by someone who was there, or the raw footage of a reporter's questions to the mayor that includes more than the TV story could air.
More videos in the hands of users means more potential for video online, but the the outlets should still be gatekeepers, deciding what goes on air and making judicious use of the skilled professionals on staff. Mainstream news channels have the advantage when it comes to high-quality work, and that advantage is one to capitalize on even as the audience grows more participatory.

Commenting on comments

While graduate students looked at video, undergraduates look at the role of comments sections in a newspaper's online version.

Are the stories with the most comments also the most deeply read? Are the comments a way of engaging readers with the news? Not exactly. Students found that only a third of all comments addressed the posted articles, while a 44 percent of all comments were responses to comments by other posters.

"Comment pages become chat rooms more frequently than not," noted one student researcher. So while articles that drew many comments also drew many clicks, the audience weren't necessarily engaging with the article. They were engaging with each other.

The research was conducted in a class on Writing for Convergent Media and, like the video research, findings were presented to Gannett executives.

"My goals were for them to see that writing a news article is just the beginning of the process," said professor Eisman, an editor at Gannett for 17 years who has trained over 5,000 Gannett newsroom employees in online news and interactivity.

"The goal in the new world of communication, particularly within journalism organizations, is to invite the community to take part," she says. "That sounds a little more romantic that it is. As any news organization will tell you, the comments can get fairly uncivil fairly quickly." As AU students observed, comments are "either a wasteland or a brilliant therapeutic tool."

Happening right now

SOC professor Maria Ivancin, an expert on marketing researching who also worked with the class on the research aspect of their project. The class reviewed Gannett's available data on Web comments using a data collection research sheet developed by Ivancin. The researchers collected data on some two dozen articles at two Gannett papers of different size, the Cincinnati Enquirer and Tallahassee Democrat.

"I think there were some real surprises to them," Ivancin said. "When you do research, you can actually spend time looking at things in an objective fashion that you may never have thought much about before. And this is real stuff. It's real stuff, happening right now."

Last year's students taking Writing for Convergent Media reviewed online coverage of a Gannett newspaper in Florida and offered suggestions for repackaging content online.

Gannett is "tremendously excited" about this partnership, said Pankaj Paul, manager of content development for Gannett Digital. The research "helped broaden our understanding of our audiences" and provided practical career experience for the students. "We look forward to expanding this relationship," he said, "and collaborating more in the near future."