Journalism
Center Leads Way to Future of Investigative Journalism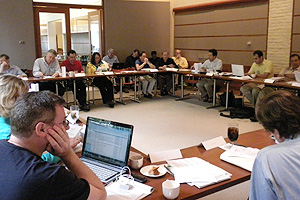 Shrinking newspapers don't do investigative journalism. So who, in a world of free news sites and laid-off reporters, will have the funds and freedom to dig up stories worth more than a tweet?

One answer may be found in the Investigative News Network, a planned collaboration of nonprofit news publishers launched in part by AU's Investigative Reporting Workshop. National Public Radio, New York PBS station WNET and many more nonprofit news organizations signed onto the idea at a three-day conference near New York City.

The network could change the way that investigative journalism is done by linking together the numerous nonprofits that have sprouted as an alternative to the "incredibly shrinking newsroom," says Chuck Lewis, founder of the Investigative Reporting Workshop at the School of Communication.

These aren't small academic ventures. They're being founded by some of the most established names in journalism and drawing top reporters to such sites as Pro Publica, with some 30 reporters, and the Center for Public Integrity, founded in 1989 by Lewis, which has a staff of similar size and an international consortium of 100 reporters in 50 countries.    

"It's starting to become a new ecosystem that is going to rival eventually, if it doesn't already, the investigative project output of newspapers," Lewis said. "You're seeing a shift from the for-profit realm to the nonprofit realm. That's what's happening now."

The sea change is reflected by the opening of the Pulitzer prizes to work done by online publications that include nonprofits and the recent decision by the Associated Press to begin July 1 to publish content from four nonprofit centers, including the Investigative Reporting Workshop. Almost immediately, a story from the SOC center drew attention when it looked at links between the White House health czar and health care firms.

Those kinds of stories may now reach an even larger audience as the proposed Investigative News Network gets underway. On the drawing board is a central Web site to host the best stories from member organizations, along with collaboration on back-office functions, libel protection, and other key, if quieter, matters.

The nonprofit group is not officially named, but its working title is the Investigative News Network, coined by AU's Lewis. Its formation was announced on July 1 with the Pocantico Declaration after a conference north of New York City. Lewis was one of four members of the steering committee for the conference and wrote the initial draft of the declaration.

"If you're amassing the best investigative reporting content from around the nation on a central site – which is something no one, including Google, can do – it's going to be magnet for exciting possibilities," Lewis said.

The Columbia Journalism Review called the declaration "good news, for a change," and said that "it's an effort we'll be watching closely in the months to come."

So will many others, at AU and beyond.