On Campus
O'Brien Raises His Mug to Sustainability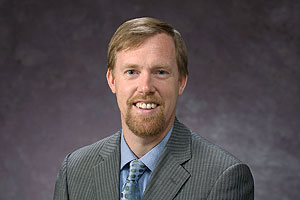 Chris O'Brien eats up every morsel of information he can find on sustainability, and he washes them all down with a frothy, ice cold, home-brewed beer.
American University's new director of sustainability believes that nothing can better illustrate the environmental concept than the art of organic home brewing.
"It exemplifies my approach to sustainability," O'Brien said. "It has to be socially, environmentally, and economically practical. As a grad student, I spent a lot of money on beer. It wasn't sustainable economically or environmentally. It produced a lot of waste. I saw home brewing as an opportunity to save money and reduce waste. It connected me to ingredients and a process that was rewarding in and of itself."
Home brewing is more than just a hobby for O'Brien—it's a second career. He co-owns Seven Bridges, an organic home brew supply business, and is the author of Fermenting Revolution: How to Drink Beer and Save the World.
"The whole purpose of this book is to tell the story of sustainability through an everyday product that people can relate to," he said. "In the book I talk about 'beerodiversity.' Would you like to have a country that has one type of beer provided by one company, or a country with thousands of styles of beers produced by thousands of companies?
"Nature works the same way. Diversity is good. It produces balance and empowerment, and it's necessary for survival."
O'Brien grew up in State College, Pa., and stayed home to attend Penn State University where he majored in science, technology, and society as an undergraduate.
"The program is all about understanding impacts on the environment from the stuff we make and consume," he said. "The term technology, most people think of things like computers, but a desk is a technology, a pencil is a technology. They're all things humans have designed and created."
O'Brien has dedicated his professional life to eliminating as much waste as possible from the production and consumption of human technologies. He ran a national responsible purchasing network and green business network before coming to AU this summer.
"I see it as a university that's poised to become a sustainability leader," he said. "We have a lot of work to do to make that real, but everywhere I look on campus, I see an interest and a willingness, a genuine enthusiasm in most cases, to become a sustainability leader."
O'Brien's charge is to lead AU to the forefront of sustainable colleges nationwide. He's currently working on blueprints for the university to become carbon neutral and to generate zero waste.
Those ambitious plans leave him with precious little free time, but he's still set to start work on a second book, "Bottoms Up: A People's Guide to Beer." Expectations will be high: his first book garnered a 2007 Independent Publisher Book Award and praise from people in the know like Dogfish Head craft brewery owner Sam Calagione.
"Fermenting Revolution is a lively, sometimes humorous, sometimes horrifying, and always illuminating tale. As Chris says, 'More so than ever before, the world today needs beer.' I'll drink to that!"