Government & Politics
How Women Candidates Fared in 2010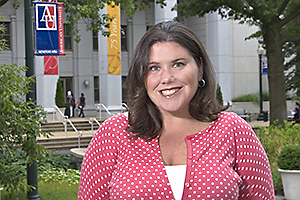 The day after the electoral tsunami that swept away the Democratic majority in the House of Representatives, Jennifer Lawless, director of the School of Public Affairs' Women and Politics Institute and coauthor of It Still Takes a Candidate: Why Women Don't Run for Office, discussed what the election meant for women candidates.
American Today: How did women candidates fare overall in this election?
Lawless: We know going into last night that in the Senate there were 17 female senators. So that's 17 percent. It looks like there will likely be either 16 or 17 percent after these elections. If Lisa Murkowski (Alaska) wins her write-in bid, then we hold steady at 17. If she loses, then we dip to 16. The only new female senator is Kelly Ayotte (R) from New Hampshire, and she offsets the loss of Blanche Lincoln [D], who was an incumbent from Arkansas. In the House, it's a little bit trickier because there are still a handful of races that are too close to call, but as of right now it looks like there will be a net loss of between one and three women, which will be the first time this has happened in 30 years. So in the House . . . between nine and 11 incumbent Democratic women lost their races. Women weren't disproportionately harmed on the Democratic side; a ton of male Democratic incumbents lost as well. Going into the elections, Democratic women comprised 22 percent of the caucus, and in the next Congress they'll comprise about 24½ percent of the caucus. So there wasn't a disproportionate loss there. But on a bad night for Democrats, when 77 percent of the women serving in Congress are Democrats, that means it's a bad night for women.
AT: What about Republican candidates?
Lawless: The Republicans didn't run enough candidates to offset those losses. The Republicans ran a record number of female candidates this cycle, but not in the right races. So they had two women who gained in open-seat contests, so those were an increase. They had six women challengers defeat incumbents, and they had 15 of their own female incumbents get reelected. But given the other gains the Republicans made, whereas women comprised 9 percent of the Republican caucus going into the election last night, in the new Congress they'll also comprise only 9 percent. When the Republicans make substantial gains, women have to gain at a disproportionately high number to offset the Democratic losses, and we didn't see that happen.
. . . [But] if you look at the governors races last night, that's where Republican women actually did quite well. Nikki Haley in South Carolina, Mary Fallin in Oklahoma, Susana Martinez in New Mexico won those races. So it's not that voters are unwilling to elect female candidates. But I do think that the Republican Party has demonstrated less of a willingness to actively recruit women for their most competitive races.
AT: There was a lot of media attention given to women candidates—the mama grizzlies and so forth. You got the impression there were all these women candidates out there.
Lawless: Oh, this was the year of the woman, right? This was the year of the Republican woman, and the thing that's upsetting, I think, is that a lot of the very high-profile Republican women probably didn't merit the amount of coverage that they garnered, and they lost. And so these are the people voters are going to look at and draw conclusions from. So a woman Republican might look around and say, 'Well this was a record number for us, allegedly. What happened to Carly Fiorina and Meg Whitman and Sharron Angle and Christine O'Donnell? If they can't win, how can I win?' Similar to what may have happened with some Democratic women after Hillary Clinton lost the nomination in 2008. So the skewed media coverage may actually ultimately be to the detriment of women's candidate emergence. We'll see; it's too early to know.
AT: Nancy Pelosi (D-Calif.) won her seat but with the Republican majority will no longer be speaker of the House. How were other women in leadership positions affected by the results of this election?
Lawless: Louise Slaughter [D-N.Y./reelected] is chair of the Rules Committee, she's gone. Nydia Velázquez [D-N.Y./reelected] and Zoe Lofgren [D-Calif./reelected] are committee chairs; they're gone. About 27 percent of subcommittees in the current U.S. Congress are chaired by women. So that means that with women comprising 22 percent of the Democratic caucus, they were also chairing roughly 25 percent of the committees, which demonstrates real progress. On the Republican side of the aisle, the women who had been ranking members prior to the Democrats taking control in 2006 were defeated . . . So most of the women who are on the Republican side of the aisle have very, very little seniority, which means they're not well positioned to assume any kind of leadership position. So we're talking about a setback not only regarding the raw numbers of women but also the visible women who are going to have additional decision-making authority in the House.