Arts
The Monsters' World of Student Artist Ben Tolman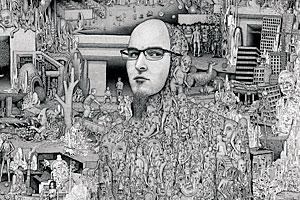 Portrait of an Artist
If Ben Tolman's artistic progeny populated our terrestrial world, he'd be an emperor. His ink drawings sprawl within a busy stretch of tightly-packed figures, cities stacked with viny organisms and machines staffed by soulful monsters. It's a mythology for a universe without clear answers, but his visual tales, while perplexing, are insistently inviting.
"His art is very accessible. Even if you don't know anything about art you can spend time looking at it, because of its compulsivity," explains Don Kimes, Department of Art professor in AU's College of Arts and Sciences. "You can look at it and see a story unravel."
Plentiful stories coexist in Tolman's neat Katzen Arts Center studio, organized into works with various purposes. On a drawing table, recent experiments in ink. On a wall, hung near the ceiling, are pieces drawn by over 30 artists of a collaborative project Tolman collected from around the world and via the Internet. In the corner reside oversized and cartoonish papier-mâchè hands he made as part of a demonstration character for Jon Stewart's Rally to Restore Sanity. On a shelf, a taxidermied squirrel and oddities submerged in preserving fluid — gifts from friends. Below them, stacks of black and white painted rocks and bricks that Tolman installs around the city hoping "maybe they'll make people pay more attention to what's around them."
For all the fantasy of his work, Tolman himself is without affectation. His pieces are about mystery and exploration; he himself, just a hardworking guy.
"I work harder than I am talented."
He explains that he averages 12-hour days in his studio. Many of his ink projects, with their exacting detail and expansive scenes take over six months to complete. A graduate of the Corcoran College of Art with a few full-time design jobs under his belt, he's paid his dues.
"He has this amazing hand, an ability to render whatever it is he wants to render with incredible technical facility," says Kimes.

What It All Means
The 31-year-old CAS graduate student was born the son of Mormons, and began questioning his parents' worldview at age 10. His childhood sketchbooks overflowed with demons and ghouls.
Yet his parents supported the art he loved from an early age, "which was great because it went against everything they believed in."
The complexity and repeated metaphors in Tolman's creations suggest that he might be attempting to communicate a competing vision of reality. Masks abound. Skin unzips into skeletons. His figures, often somber and watchful, are densely layered, naked, exposed. When asked what he believes in, his answer is simple: "reason and logic."
But there is plenty of unruly logic lurking in Tolman's work. Asked to define his symbols, Tolman balks. Art is an alternative language. He can't translate.
"Part of the process of drawing is the discovery." He hopes his work provides a space to explore, gives people something they'll want to invest their time in. He adds, "Mystery is a lot more interesting than answers."

In September 2011, Ben Tolman's work will appear in a solo show at the Fridge in Capitol Hill. In the meantime, watch Ben Tolman at work.