Communications
Kocourek's Lens Captures Soulful Shots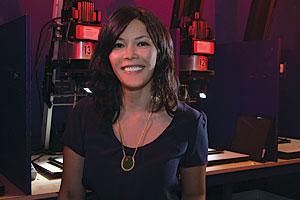 Photography is so much more than point-and-click. When Tara Kocourek, manager of photographic services, focuses her lens, she is collecting truth — the truths of her subjects and truth as she sees it in the world. She makes art and represents memories shared from all sides of the camera.
"It's all about relationships," she explained.
In the School of Communication's photography lab where Kocourek is a fixture, learning the art form is likewise all about relationships. She manages 15–20 student lab assistants in the daily operation of the photography lab, working closely to mentor these student photographers and ensure the safety of lab facilities. The department's mainstays are aptly captured in Polaroids fastened to a central pillar in the equipment room. Among them are Kocourek's mentors — Iwan Bagus and Leena Jayaswal — and lab assistants, a family of artists who have over time called AU's darkroom home.
"The photography department is so closely knit together because of people like her who are passionate about what they do," said Kyoko Takenaka '12, a film and media student. "It's unlike any department in the entire school."
Kocourek, a gentle presence with a disarming gaze, learned from a young age to build connections with those around her. Born in California, Kocourek and her family moved early on to Japan, then Australia. Kocourek headed to Bangkok for high school, where she was initiated into the world of photography, taking classes and stepping into a darkroom for the first time.
She learned on a "Plastic Fantastic" 1200 mm camera. At her new home in Thailand, "photography helped me straddle the two worlds," she said.
AU was one of a few American universities to visit and recruit from her Bangkok campus, and after her high school graduation Kocourek began undergraduate studies planning to study broadcast journalism at AU.
"I thought I'd be Christiane Amanpour." She smiled ruefully. "But I didn't like the spotlight."
She'd find more luck behind the camera. Kocourek landed a job as a lab assistant for SOC's photography department, and there rediscovered her passion for photography, which led to a BA in black and white darkroom photography.
After graduation she worked in corporate consulting, for a time in program management for Booz Allen Hamilton. Even now, she concurrently teaches photography at the University of the District of Columbia, blogs for UpTake.com's travel and beach blog, and runs her own freelance business, tara.k photography, shooting for travel and magazine publications and weddings.
Two years ago, Kocourek returned to AU with this sort of professional experience informing how she interacts with her subjects. "You have to bring life experience," she said, in order to grasp the broader context of a person's situation.

Kocourek recently offered her services pro bono to Miriam's House, a residence for women living with HIV/AIDS in Washington.  Residents wanted to preserve anonymity and were hesitant to be photographed. So, in order to prepare the women for a later photo shoot, where Kocourek used shifted focus and over-the-shoulder shots to maintain privacy, the photographer offered to do an introductory session, creating professional portraits for the women to keep for themselves.

Most women at Miriam's House are recovering from homelessness, disease and addiction, and had never experienced the gift of being made to feel beautiful. Cristina Flagg, communications assistant at Miriam's House, recalls, "It was a totally new experience. They got really glammed up. It gave the residents a chance to know Tara, so that when she came to the house again, she could take candid photos."


"It's all about trust," Kocourek said.
Now, as an SOC MFA film student herself, Kocourek is capturing a new sort of visual story. In her current documentary project, she spotlights the "creative aging" process, focusing on people ages 64–92, including a nonagenarian dancer who can still do the splits.
The rationale behind her work is clear. "You do it because you are genuinely interested in people and their lives," Kocourek explained.
"People are what matter the most."