Student Life
Dean of Students Hradsky Thrives on 'Teachable Moments'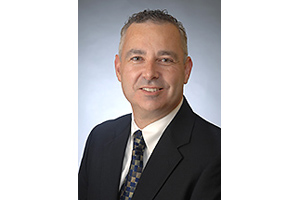 As an undergraduate at Maryland's Loyola College, Robert Hradsky boasted a lengthy list of extracurricular activities: resident advisor, student government, yearbook staff, orientation leader, student health advisor.
Today, as AU's new assistant vice president of campus life and dean of students, Hradsky is helping other students find their niche.
"We're really focused on the learning that occurs outside the classroom," he said. "We want to offer students a transformative experience."
For Hradsky, that transformation came during his junior year of college.
"As an RA, a whole new world was opened to me," he said. "It's an amazing training ground for any kind of field. You have to learn to interact with people, manage crises, and enforce community standards.
"To this day, my experiences as an RA continue to inform my work. That and my three teenage sons," he said with a laugh.
Hradsky came to AU in October from the University of Baltimore, where he served as vice provost for student affairs since 2005. He said he was drawn to AU's student centeredness and strong sense of community.
"I'm so impressed with the ways students are engaged across campus," he said. "This is a community that lives its values."
In his new post as dean of students, Hradsky oversees the Student Health Center, the Acade-mic Support Center, Disability Support Services, New Student Programs, the Community Service Center, Judicial Affairs and Mediation Services, and the Counseling Center. And while there's no average day, Hradsky said, the most gratifying part of his job is working with students in need.
"You've captured their attention, and it becomes a teachable moment," he explained. "We want students to learn from the experience so that, as adults, they make good, healthy choices."
Though he said AU is already doing lots of things well—"we have a talented staff committed to outstanding campus life"—Hradsky identified three areas on which he'd like to focus:
alcohol and drug use
resources for victims of sexual assault
campus safety and threat assessment
"These aren't problem areas, by any means, but opportunities to have a greater impact," he said.
Hradsky holds a doctor of education degree in higher education management from the University of Pennsylvania and a master's degree in higher education and student affairs administration from the University of Vermont.
Prior to his work at the University of Baltimore, he served as assistant dean for student affairs at the John Hopkins Bloomberg School of Public Health and executive director of career services for the Smith School of Business at the University of Maryland, College Park.