In the Community
Community Relations Director Pagano Works with Neighbors and Local Governments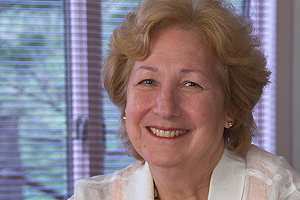 Penny Pagano knows the AU neighborhood well. She first arrived on campus as an undergraduate in the early 1960s, and she has lived in the leafy Palisades area between AU and the Potomac River for 27 years. Now she's director of community and local government relations, a post in which she serves as liaison with AU neighbors, the City Council, and the government of the District of Columbia.
She knows D.C.'s city hall almost as well as she knows AU, having spent over five years as chief of staff for longtime councilwoman Kathy Patterson, who represented Ward 3 in northwest D.C., which includes the university.
That makes her a natural fit for the job, which might find her calling council members about legislation enabling AU to restructure $60 million tax-exempt bonds and then switching gears to update neighbors on new construction.
The legislation, which passed in October, enabled the university to respond to conditions in the credit markets. That's the kind of thing she tracks, along with legislation that affects the university as an employer.
"We're lucky. We have good relations with our neighbors. Things go pretty smoothly, though every once in a while, we do have some bumps," said Pagano, BA '65. "AU is surrounded by a residential neighborhood, so it's very important for us to live as good neighbors."
To Pagano, AU isn't just her alma mater. It's the place her neighbors stroll through in the evening and bring their children to swim. It's where people she might chat with at the grocery store also serve as docents at the AU Museum, come to watch sports events, and tour the tree-lined, flowering grounds with their garden club.
But she'd like to see more of that kind of interaction. Last week, neighbors were invited to a holiday reception at the Katzen Arts Center, one of Pagano's initiatives aimed at helping neighbors feel at home on campus. She also meets with local Advisory Neighborhood Commission members and community liaisons on a regular basis to keep them in the loop on construction plans, any major events that are coming up, or just to hear feedback on everyday concerns like parking.
She's also taken advantage of the area's many active listservs to get the word out about talks, concerts, and other events on campus that could be of interest to neighbors. "There are wonderful events happening every week, but finding out what's happening isn't always easy for people outside of campus," said Pagano, who has received "some very nice feedback" from neighbors for the electronic outreach.
"The community shouldn't be isolated from the campus and the campus shouldn't be isolated from the community," she said. "We're all here together."