Athletics
Academic Counselor Tanner Talks the Talk, Runs the Run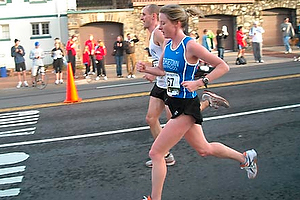 As an academic support counselor in the athletic department, Melissa Tanner '08 helps student-athletes achieve success in both the scholastic and sporting arenas. It's a position perfectly suited for the 27-year-old PhD student who was an all-Ivy League runner while an undergraduate at Harvard.
"I found that running actually helped me balance my studies and stay organized," said Tanner, who now imparts that wisdom to about 20 student-athletes she works with on a weekly basis. "Student-athletes have to budget their time wisely with the extra commitments between games and practice. We talk a lot about prioritizing and staying on top of things and sticking to a schedule."
Tanner practices what she preaches. Aside from working toward a doctorate in clinical psychology and her full-time job, she manages to run a minimum of 65 miles a week. Rain or shine, morning or night, Tanner diligently pounds the pavement every day—no exceptions—and her regimen is paying off.
On Oct. 28 she finished third in her inaugural Marine Corps Marathon, turning in a time of 2:51 that smashed her personal best by an astronomical five minutes. It was the fourth marathon for Tanner, who earlier this year won one in Frederick, Md.
"It was nice to have a lot of friends and family out there, and to run [in a place] I'd run before made it easier," she said of the 33rd annual marathon in Washington. "I started out in the race more conservatively, so I wasn't with the lead pack, but I was gaining on them during the second half. I'm not sure if it would have worked out differently had I changed my strategy. I'm not going to complain."
A competitive runner since she was 13, Tanner went on to become Alabama state high school champion in the mile and two mile. Now she's hoping to run all the way to London in 2012. Her latest goal is to post a time of 2:47 or better in an official race, which will qualify her for the U.S. Olympic Trials.
"I love marathons, I think that's my best distance," she said. "Distance running is a good way to clear your head, it's a good stress reliever. Anytime you finish a marathon, it's one of the biggest highs, just the sense of accomplishment. To win is definitely icing on the cake."
Tanner, who earned her master's from AU earlier this year, eventually would like to practice cognitive behavioral psychology, which tries to alter thoughts and behaviors in order to change emotions. It's geared less toward focusing on the past and why a person is the way they are, and more toward changing a person's future. While she doesn't delve deeply into her student-athletes' personal lives, there's no doubt that her unique training and experience both in the classroom and in the competitive world of athletics benefits them dramatically.
"Working with student-athletes brings a new layer because I enjoy hearing about not just their academics, but their athletics," said Tanner, who admits, "I do have a special fondness for runners."