AU Insiders
Happy Trails for Ultra-Runner Mackeben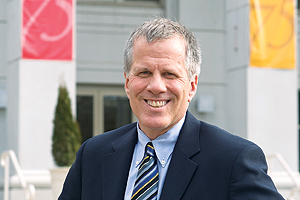 Dan Mackeben goes through a pair of running shoes every seven weeks. He can log 30 miles or more in a single workout and has spent more than 24 hours on the running trail at once, breaking only for water and protein bars.
Mackeben, the director of development for the School of Public Affairs, isn't your average jogger—he's an ultra-runner.
Last May, Mackeben completed his second 100-mile race in two years, the grueling Massanutten Mountain Trails Run through Virginia's Shenandoah Valley. The challenging 100-mile trail, which Mackeben covered in 35 hours, included 12 rugged mountain climbs of more than 1,000-feet each.
"Yes, I do this for fun," he laughed. "The hills were incredibly difficult, and there were so many climbs and descents. In the end, I was exhausted but exhilarated!"

Mackeben ran about 60 to 70 percent of the race and power-walked and hiked the rest. Every 20 miles, he stopped at a first aid station, where medics monitored his blood pressure and weight; he also took quick breaks for water, Gatorade, and meals.
"You'd stop at an aid station in the woods in the middle of the night and they'd be making pancakes," he laughed. "It was bizarre."
Mackeben said ultra-running can be more of a mental challenge than a physical one. Thankfully, he has a crew of friends who keep him motivated and even help pace him during the difficult homestretch.
"Eventually, you lose all sense of your body clock," he explains. "You may feel like you're running an 8-minute mile, but, in actuality, you're running a 15-minute mile. So your crew is just invaluable."
In fact, Mackeben, a member of the Virginia Happy Trails Running Club, said the camaraderie with other runners has been one of the best things to come out of his ultra-hobby.

"I've made some extraordinary friends—that's been a huge part of the 'hook' for me," he said.

Sidelined by knee surgery—the result of a high school football injury—Mackeben took a 15-year hiatus from running. However, he rediscovered the sport in a big way, completing his first marathon in 2001. Soon after, he started running trails near his Fairfax, Va., home.

"I found the trails were so much easier on my knees," he said. "Also, it's a more solitary experience than running on the street. I get great peace for being out on the trails."   

Though he has several big runs on the horizon, including a 50K at the end of March and a 50-miler in April, Mackeben doesn't plan on tackling another 100-miler until next year.
"I can't stay away too long, though," he said. "I just love it."