AU Insiders
Editor Has Inside Story on Maryland Culture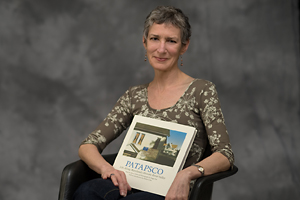 Ali Kahn was an outsider in the old mill towns by the Patapsco River when she arrived in 1997 to do an oral history project that would be seen, she thought, mainly by historians.
Twelve years later, the stories she found have generated photo exhibits, community theatre performances, and a newly published book with a foreword by a Pulitzer prize–winning author.
Patapsco: Life Along Maryland's Historic River Valley is a richly photographed book laden with memories of mill work, bootlegging, farm chores, segregation, and life in the small-town heartland of central Maryland before the highways and strip malls.

Kahn, an editor for University Publications, is also a folklorist who has written for the National Geographic Society, Smithsonian, and Time-Life books. Her projects over the years have been numerous, sometimes taking her on the road for months at a time. This one looked as if it wouldn't take long: Interview 25 longtime residents for a Maryland nonprofit, now called the Friends of the Patapsco Valley and Heritage Greenway, and preserve their stories for archives.

Of course, it would have its challenges. Neither Kahn nor photographer Peggy Fox knew the area, which lies around Ellicott City, or how to decide who to approach. "So here we were, these two outsiders, who had to feel our way into this place and figure out its story," Kahn recalls.
She set out to interview a cross-section of longtime residents: mill workers and farmers, merchants and domestic workers, "people who were shaped by the place and shaped the place."
One person led to another, until Kahn had filled her quota of interviews and still had more stories to hear and share. More funding came through from the Maryland Historical Trust, and the project grew.
She heard tales of running moonshine, and of hobos in the yards; of living in a cottage outside "the big house" where a mother was cook; of a grandmother rubbing chests with goose grease and tying an onion round the neck to cure the fever. ("It would do it, honest," her informant told Kahn.)

The project attracted the attention of the Library of Congress, which selected it to represent Maryland's grassroots heritage in a bicentennial program and for its permanent archives.

It also "spun off all these other lives," Kahn says, generating related projects, from exhibits of Fox's photographs to performances by community theatre groups. And the book— thick, glossy, and poignant—finally came off the presses this year.
Twelve years. A lot changes in that time. Suburbs sprawl even further into the onetime farmland; newer residents arrive, unaware of the river valley's past lives.

Kahn sees the memories captured in the book as a kind of pentimento, a picture that has been painted over. "We may see a strip mall," she says, "but they say, 'Oh, I remember a field of violets.'"