On Campus
Creating a Fitter, Healthier Campus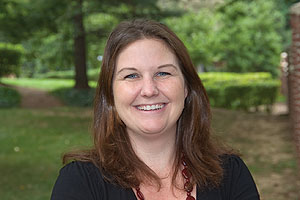 Amy Farr wasn't always a guru of fitness.
The mastermind of AU's popular summer fitness challenge, A Healthy U, recalls her days as "an overweight kid" and the discovery she made when she started to exercise. "When I was more physically active, I felt better about myself. I was intrigued," says AU's health promotion manager. "I started to read more about all the positive things that can happen from making healthy choices."
It led to a career in health and fitness education that has found her spearheading AU's wellness campaign, working to enhance health awareness on campus with campaigns such as the Pedometer Challenge that drew hundreds of faculty and staff to clock their daily steps and walk their way to fitness.

"Time is the number one barrier to physical activity," she says. "We're so stretched. We work our typical work day, and a lot of people have families and are trying to balance families and get children where they need to go. So much is packed into the schedule, we have to eliminate a lot of things, and walking takes a little bit longer. A bike takes longer. It's easier to jump into a car. Then it becomes a vicious cycle."
Sound familiar? That's the cycle the summer campaign was designed to break, particularly the eight-week Pedometer Challenge, in which some 630 people in 63 teams competed to walk the most steps.

Staff and faculty clocked over 161,000 miles, or 363 million steps. Forty-nine people took more than a million steps each, or about 125,000 per week.
Farr was not among the super-walkers. She kept pace with the university average, about 8,000 steps a day, or roughly four miles—though when she's training for a marathon, her daily steps far exceed that amount.

The competition was a fun motivator, she says, but winning wasn't really the point. "I hope it's helped some people to think about their patterns regarding physical activity, just on a day-to-day basis, taking a look at the choices they make and realizing those little choices add up. Making time for exercise doesn't have to be as daunting as we think it is."
Farr's position is only a year old. Why have a post devoted entirely to wellness? "The cost of health care is gradually increasing every year, and we knew work site wellness is one strategy to contain those costs," she says.
It's also a good recruitment and retention tool, showing that the university doesn't just talk about job satisfaction, workplace morale, and employee health. Quite literally, it walks the walk.

Or as Farr puts it: "It's the right thing to do."
Campus health promotion projects
the ongoing farmer's market, every Wed. from 11 a.m. to 4 p.m. through November
seated massages for faculty and staff, at a dollar a minute for 15 to 30 minutes, on the second and fourth Monday of each month in McKinley Room 153
health screenings, which will be held again in January
an upcoming program that makes available one-to-one wellness coaching, set to kick off in September