On Campus
Office Mates to Soul Mates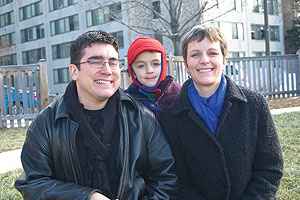 Jeff Middents, Angela Dadak, and son Alexander are an all-American family.
Literally.
Middents, a literature professor, came to AU in 2001. His wife, Dadak, joined the College Writing Program six years later, after learning about the opening at a literature department mixer. Their four-year-old son, "Xan," is enrolled in preschool at AU's Child Development Center.
"We share the same reference points, which is neat," says Dadak, who's running the TESOL program this year, but will return to College Writing in the fall. "Xan loves the AU library like we love the library. He knows Clawed the Eagle because we've taken him to volleyball games.
"We all feel at home on campus, but we also each have our own special places."
Dadak and Middents, who usually commute together from Takoma Park, are one of dozens of AU love connections.
According to research by the Nierenberg Group, 22 percent of office romances can lead to marriage. Considering how much time people spend at work, it's no surprise when sparks fly across cubicles—or in the case of AU, across the quad.
Maria Jackson, a designer in University Communications and Marketing, met her husband, John King, in 1991 when he was working at WAMU. And while they'll celebrate their 17th wedding anniversary in September, Jackson says "things took a while to unfold."
"We didn't have e-mail back then, which was sort of exciting because you didn't know if someone was going to call you," she recalls. "There wasn't this instant gratification that you get from Facebook; it took some time to get to know each other."
Today, Jackson and King, operations manager for National Public Radio Sponsorship, a division of NPR, share two children: Celia, 13, and Ethan, 11.
As it all started at AU, Jackson says the university "will always hold a special place in my heart."
"I went through all the major phases of my life here. I remember when my daughter used to sleep under my desk," she laughs. "This has been a great place to meet your significant other and start a family."
Did you meet your mate on campus? Do you work alongside your soul mate? E-mail your story to afrank@american.edu.