On Campus
Lit Profs Write Love Story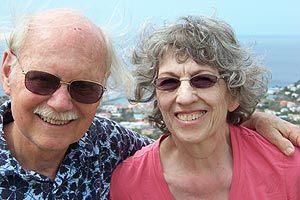 Chuck (Charles R. Larson) and I met off-campus through a mutual friend just before classes began in the fall of 1970. When we announced to the department in the spring of 1971 that we were getting married, everyone in the department—except for one person—was surprised. Since they had never seen us together, they had no idea that we were interested in each other. We taught on different days and there were few meetings in which we were both present. How could we be getting married if no one even knew we were a couple?
One person—the department secretary—did know, or at least she suspected, because she saw us together shopping for a rug one evening in a department store. But she kept her speculations to herself. It was great fun surprising everyone but that one person. We were married in AU's Kay Spiritual Life chapel in May 1971.
We've enjoyed and continue to enjoy sharing our professional lives as colleagues in the same department. Our students don't necessarily know that we're spouses and are sometimes surprised to discover our relationship. We have collaborated on a number of projects, scholarly and otherwise. Our most significant scholarly project was co-editing Worlds of Fiction, an anthology of international short stories published in 2001. Our most significant non-scholarly collaborations are our two children, Vanessa and Josh.
The best part of being faculty spouses is having so much in common—though we don't agree on everything.