Student Life
Housing and Dining's Kreimer Remains Sunny During Epic Snowstorm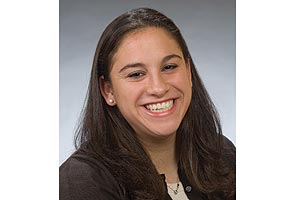 Snowmageddon 2010 brought the District to its knees.
But while the rest of the city was paralyzed in the wake of a blizzard that dumped more than two-feet of powder across the Washington area, it was business as usual for Leah Kreimer, CAS/BA '06.
The Residence Hall Association (RHA) advisor and her team were set to host a two-day gathering of 160 student leaders from six states and the District, Feb. 5. As the first flakes began to fall that morning, Kreimer and a dozen students scrambled to make alternate arrangements. The federal government might close its doors, but the RHA conference would not.
"The students had been planning this conference for more than a year. Cancelling it was never an option for them," said Kreimer, who also serves as Centennial Hall resident director. "There was no fighting, no complaining. They just mobilized and made it happen."
Although the conference—an annual gathering of regional RHA student leaders—was originally to be held on campus, Kreimer and her team moved the event to a nearby hotel in Friendship Heights. As participants began to trickle into Washington's winter wonderland, the AU team was arranging for shuttles and meals. Five Housing and Dining staffers also chipped in to help, even braving the roads to get attendees to the airport.
"Resident director Julie Eller is from Minnesota and is an excellent driver in the snow," laughed Kreimer.
And while Mother Nature threw the AU team a huge curve ball—or snowball, as it were—Kreimer said the conference "went off without a hitch."

"Planning a regional conference under regular circumstances is something to be proud of. But planning a conference under two-feet of snow is just amazing. Our students were very excited and positive and that spirit carried over to everyone in attendance," she said.
During the No Frills Conference—affectionately dubbed Snow Frills—AU's RHA was also voted "school of the year" for the region, which includes Maryland, Pennsylvania, Ohio, Delaware, New Jersey, West Virginia, and the District.

Kreimer said the honor, AU's second in as many years, is well deserved.
"Advising becomes substantially easier when you have students who don't wait to be told what to do, they just do it. The snow was kind of a blessing in disguise; it was such a uniting force, and it made the experience that much better for our students."