In the Community
HR Staffer Spearheads Haitian Relief Drive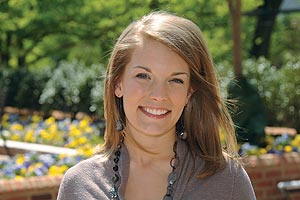 Heather Smith knows how it feels to lose it all.
On Feb. 5, 2008, Smith, a Human Resources administrative assistant, survived a devastating tornado that ripped through Union University in Jackson, Tenn., destroying 18 dorms and leaving $40 million worth of damage in its wake. Smith, then a junior, took shelter under a desk as the 200 mph winds howled around her. In less than a minute, the roof was gone and Smith's world was turned upside down.
"I know what it's like to have everything ripped away from you, and to be left with only the clothes on your back," said the Simpsonville, Ky., native, her voice cracking. "You go into shock; you have nothing."
So, when a catastrophic 7.0 earthquake rocked Haiti Jan. 12, killing 230,000 people and displacing another 1 million, Smith sprang to action.
Along with her father, Randall Childers, a firefighter and EMT who travelled to the Caribbean nation in March, Smith is collecting medical supplies to ship to Haitians in need. The AU community is encouraged to donate: ibuprofen, antacids, Benadryl, saline eye drop, multivitamins, aspirin, and Tylenol.
"Most importantly, we need sunglasses—even cheap sunglasses from the dollar store—because people are going blind as a result of the dust, debris, and lack of shelter," explained Smith. "We also need chewable children's vitamins because so many kids are malnourished."
Donations may be dropped off at Human Resources, 3201 New Mexico, suite 350. Smith will also be collecting donations during Staff Appreciation Week, May 17–20. Her father's hoping to join her at a table on the quad during the picnic, May 20, to share his stories of hope from Haiti along with a video of his 12-day trip.
After the Staff Appreciation festivities, Smith will box up the donations and send them to the Red Cross, Kentucky Baptist Association, or another humanitarian aid group. For her, it's a labor of love: a reminder that, in the midst of chaos and crisis, small gestures can have a big impact.
"Until you've been through something like this and your reality is turned upside down, you don't really get it. I've been there and I know what it's like to be handed a clean shirt to wear because I had absolutely nothing.
"You have no idea how precious any gift is to someone who needs it," Smith continued. "An old T-shirt still covers your body. A cold glass of water still quenches your thirst. There's great reward in knowing you've helped someone and, from my perspective, there's great humility and appreciation in knowing you've been helped and that someone cares. The smallest gifts can make the biggest difference."
For more information or to donate items, contact Heather Smith.