On Campus
AU Benefits from Joiner's Jump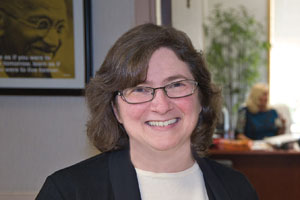 Ann Joiner likes her view from the other side of the desk.
An employee benefits consultant for 22 years, Joiner leapt at the chance to switch sides when she joined AU's Office of Human Resources—one of her former accounts—in March.
"I just really liked the way things were done here," she said. "It's a very welcoming place, and at the same time very innovative. Most employers, when you're dealing with employee benefits, it's pretty much vanilla, but one of the things I really liked when I was working with AU is they liked to try to do new things. For example, transgender benefits in the medical plan. There aren't a lot of employers that are doing things like that."
As director of employee benefits, Joiner is charged with overseeing AU's medical, short- and long-term disability, dental, life, and retirement benefits, among others.

"I have a lot of admiration for Ann. We got really lucky to have her join our team," said Sarah Bayne, director of HR communications. "She has over 20 years of in-depth experience in benefits and also has very strong analytical skills. She's also really terrific with people, and that from my perspective is a big component of the work."
Among Joiner's roles is that of an advocate for employees who are having problems with one of the insurers. It's a big change from her days with the consulting firm Mercer, where she dealt almost exclusively with employers and vendors.
"On this side of the desk there's a lot more involvement with the employees," she said. "I love the people part of the job. Sitting down with somebody and helping them work out whatever their issue is."
With about 1,700 people covered by one of the university's health plans, Joiner is a busy woman. But she's adept at solving problems. A movie buff, she also loves to do crossword puzzles. She usually can solve the puzzle through Wednesday before they start tripping her up. On average she finishes three out of four Sunday puzzles—an impressive clip.
Right now, however, most of her attention is focused on figuring out how AU will comply with health care reform. Even though it was not required to do so until January 1, 2011, the university recently began including dependents up to age 26 in the medical plans.
"There were kids coming out of college that needed health care coverage," she said. "The way our plans worked, once you lose your student status you lose your health care. That was one reason we did it now."
Over her more than two decades in the field, Joiner has seen the cost of health coverage skyrocket. But one thing hasn't changed: at its core, employee benefits and human resources still are about the people.
"It's a great feeling when you can help somebody," she said. "I just love it here. I love the environment and people. It's almost like working in a small town because you have so many different types of people and personalities. It makes it a lot of fun."