Communications
AU Videographer Trains Lens on Campus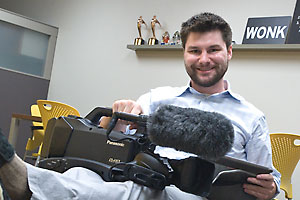 Director of university video Matt Fredericks—a self-professed visual media wonk—is the cameraman behind the video that introduced wonk. Culled from more than 10 hours of footage, the video, which features interviews with 40 faculty, staff, and students, represents 228 hours worth of work.

"Wonk is a very visual word, so it was a fun project to work on," he said. "It lends itself nicely to viral videos and commercials."

Fredericks joined University Communications and Marketing in May. In just four months, he's churned out 13 polished projects from his studio in the Anderson Computing Complex, including a pair of "wonk walking" videos, lively man-on-the-street interviews in Georgetown.

He's cut videos on the School of International Service ribbon-cutting and President Obama's July 1 speech on immigration. Earlier this month, he also shot and edited President Neil Kerwin's first video address to the campus community, which was posted on the AU home page. Fredericks, who will be hiring an editor and student workers in the next few months, promises even more clips promoting the university's people and programs.

"There are so many intellectual people at the university. There's always someone interesting to interview," he said.

Fredericks first picked up a camera as a freshman in high school, crafting a fake campaign video for a class. By the time he was enrolled at Bowling Green State University in his native Ohio, the film and philosophy major was also working as a part-time videographer in the College of Arts and Sciences. After graduation, he landed a full-time position and stayed at his alma mater for five years.

After a brief stint at a television station in Sarasota, Florida, where he produced commercials, Fredericks and his fiancé landed in Washington.

The Glover Park resident, who's still getting to know his city, said he enjoys Washington because it's "both urban and green." In other words: the picture-perfect shot.