On Campus
Washington Semester Receptionist's Mantra: 'Smile and Be Kind'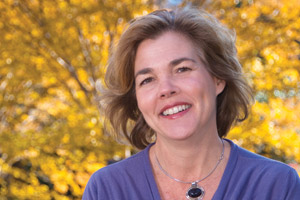 As a military spouse, Jeanne Ashby has lived all over: Alabama, Arizona, California (twice), Washington, D.C., and Japan.
"Wherever we went, I never got to pick out my [kitchen] tile," she laughed. "I learned to be flexible. Wherever we landed, we had to settle in, reach out, and make new friends."
It's a lesson that's served Ashby well as Washington Semester's new receptionist and assistant to incoming dean Donna Fish. Although her job can be hectic — she fields phone calls from parents, meets and greets guest speakers, and helps students with everything from immigration documentation to ID cards — the adaptable Ashby is never without a smile on her face.
"I started in mid-August as the students were arriving, and I was worried they would sense I was overwhelmed," she said. "I decided the best thing to do was just smile and be kind, because they were probably just as overwhelmed as me."
Ashby, a former mechanical engineer, math teacher, and Red Cross employee, said she was drawn to Washington Semester — which attracts hundreds of students from around the world each semester — because she enjoys helping people.
"I love the international flavor of the faculty and students, and that no day is ever the same," said Ashby, an avid reader and news junkie. "But most of all, I enjoy solving people's problems and watching them walk out happy."
After trotting the globe with her husband, who's now retired from the Marine Corps, and their three children — the oldest of whom is a student at the University of Colorado–Boulder — Ashby's also happy to be back in Washington. Raised in Scaggsville, Md., the Virginia Tech grad and her family have settled back into the 1940s bungalow they purchased in Arlington in the 1990s.
"I love being close to my family for the first time in 20 years. And at my core, I'm an East Coast girl," she laughed. "Washington's a very multicultural city, a very friendly city, and it's great to be home."
She's settled in and, as the warm, friendly face that greets everyone who walks into the Constitution Building, Ashby's made lots of new friends. Now there's only one thing left to do: pick out her tile.