On Campus
GLBTA Center Strives to Create Safe Space for All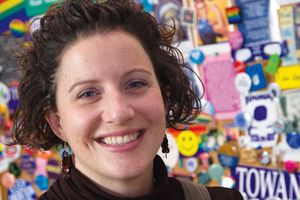 When members of the controversial Westboro Baptist Church arrived at American University on January 14, hateful signs in hand, they were met by more than 1,000 students toting their own messages.
All people are created equal. AU loves you. Free hugs.
Amid the sea of student protesters, Sara Bendoraitis, director of AU's Gay, Lesbian, Bisexual, Transgender and Ally (GLBTA) Resource Center, looked on with pride.
"It was unbelievably moving to see the community come together to support our LGBT members," she said. "It was also a reminder that discrimination and hurtful, hateful messages exist in the world. We live in something of a bubble at AU, but that hate is a reality for a lot of people. The Westboro Baptist Church united our community, but they also burst that bubble and reminded us that there's still a lot of work to do."
Since coming to AU in 2007 from Texas A&M University, Bendoraitis and her team of seven staff and student workers have worked to create a safe space for people of all sexual orientations and gender identities.
The GLBTA Resource Center boasts a packed calendar of social events, lectures, research conferences, and trainings. Last year, alone, 120 faculty, staff, and students participated in the Safe Space Sticker Program, a three-hour workshop aimed at building a more inclusive campus environment. Recently, the center launched another training program, Trans 101, which explores issues facing the transgender community and effective ally behaviors.
"AU is LGBT-friendly, so people assume everyone has a basic level of knowledge and that's not always the case," Bendoraitis explained. "The trainings have become so popular that we've more than doubled the number we offer each semester."
Last semester, the center also introduced Connections, an online, peer-to-peer chat program. Though it's aimed at students, anyone with an AU ID can log anonymously into the system to discuss whatever's weighing on them. Peer Chat Buddies are available on Tuesday evenings and Wednesday afternoons to field questions and direct users to resources.
"Some students don't feel comfortable coming into our office, but they're still looking to connect with someone who cares," said Bendoraitis. "This is a good way to reach students who we otherwise might not."
And in the wake of a string of suicides last fall among LGBT youth—including a Rutgers University freshman who leapt off the George Washington Bridge after being outed by his roommate—Bendoraitis said it's more important than ever to spark those conversations.
"Suicides and incidences of bullying aren't isolated events, they happen every single day. It's always difficult to reach out for help, but people need to know they're going to get through it. There's a future for everybody."