On Campus
Campus Life's Knit Wits Crochet for a Cause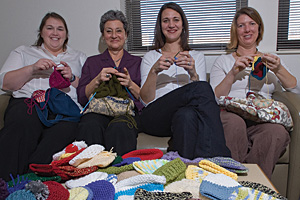 Though their fingers move at a feverish pace, the conversation is relaxed and the laughs come easily for the Knit Wits: six staffers from the Office of Campus Life (OCL) who gather twice a week to craft and chat.

"Knitting and crocheting can be boring if you're doing it at home by yourself in front of the TV, so it's nice to visit with each other," said Kathy Schwartz, director of the Academic Support Center, as she knitted a hat for her daughter.

"There's no work talk," laughed Christy Nichols, an advisor in International Student and Scholar Services (ISSS). "It sneaks in here and there, but for the most part, it's just about enjoying each other's company."

Disability Support Services director Joanne Benica formed the group about three years ago, after she discovered other OCL staffers shared her prowess with—and passion for—hooks, needles,  and yarn. The Knit Wits meet at noon every Monday and Friday in a nook near the student government office on the second floor of the Mary Graydon Center. (Meetings move to the ISSS balcony in the warm months.) No experience is necessary and the group welcomes crafters of all kinds, like Maureen Breslin.

Benica calls Breslin, who sewed the tote bags the women use to carry their supplies, "the ultimate crafter." Breslin, who works with student-athletes in the Academic Support Center, "can do anything—and without a pattern," laughed Benica. "I've learned so much from her."

Pattern or no, the Knit Wits tackle a variety of projects: sweaters, stockings, gloves, blankets, and dolls. Recently, they've been knitting and crocheting hats as part of Save the Children's Caps for Good campaign. Since the holidays, they have produced 60 hats in a rainbow of colors, which will be sent to newborns in developing countries throughout Africa, Latin America, and Asia.

It's nothing for each of the Knit Wits to whip up a tiny, pom pom-topped hat during their lunch hour. "It's an easy, fun project for a great cause," said Benica of the campaign, which runs through the end of the month.

"And everyone likes gifts that are homemade," added Breslin. "They mean more."