Achievements
Staffer Earns 10 Professional Development Certificates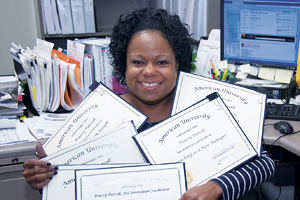 Never stop learning.
That's the philosophy behind Human Resources' professional development certificate program, launched in 2010 to help faculty and staff hone their skills and become more effective leaders.
It's also Tracey Purcell's motto.
"I believe you should never stop growing," says Purcell, financial and information analyst, Office of University Architect. "There's always something new to learn."
Purcell, who came to AU in 2001, has earned all 10 certificates HR offers across two programs: Developing High Performance through Leadership and Developing High Performance Through Personal Skill Mastery. Each series emphasizes a different area of proficiency—diversity and inclusion, team building, innovative thinking, project management, intercultural communication—and includes three or four required courses.
Purcell's accomplishment represents years of work (the certificate program began two years ago, but AU has long offered professional development courses). In 2002, she had to drop an academic course—Purcell is working towards a degree in business administration at Kogod—because of an illness. She found HR's workshops were a good way to keep her mind sharp and her motivation up.
Some 35 classes later, Purcell, whose job is to track expenses for a variety of landscaping, remodeling, and construction projects, keeps a binder of notes and handouts, which she turns to often. "It's my resource center. I'll reference it for PMP or if I'm working with students or preparing for an interview."
According to Dawn DePasquale, chief learning director for staff, Human Resources, Purcell raises the bar for other staff and faculty.
"Tracey was one of the first to begin working on a certificate. One by one, as the certificates came across my desk to sign each month, I realized that she may have earned all of them," says DePasquale. "This not only attests to her strong willingness to learn, but to her manager's support for her professional development.
"I know Tracey is trying to use these newfound skills and tools every day at AU, and I hope she continues in her commitment to her professional growth."