On Campus
Buchanan's Words, Disposition Light Up his Shuttle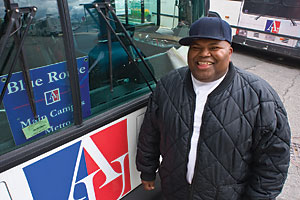 The Shuttle King shuffles off to his bus, excited for another shift behind the wheel. On the way he greets his passengers much as a politician does his constituents—with a smile and friendly word for all.
Once on board the words don't stop. Since he began driving an AU shuttle full time in September, Everett Buchanan generally has featured a word of the day for the AU students, faculty, and staff he drives.

"Egghead." "Boondoggle." It's less about the word than bringing a small moment of joy to his riders.

"A lot of times when the bus is filled you need something to take their minds off being cramped up together," he said. "Sometimes they need a pick-me-up with all the hustle and bustle, all the homework they're dealing with."

It almost always works. Earlier this year an anonymous fan expressed their gratification for Buchanan's perpetually sunny spirit in a rant in the Eagle. Ride his bus from main campus to the Tenleytown Metro station and back and it's evident in the smiles of his passengers, who despite the buds jammed in their ears can't help but hear his words of encouragement.

"He just cares about what he's doing," said Kevin Wyatt, shuttle operations supervisor.

A Washington native, Buchanan has been driving professionally for years. He dubbed himself the "Shuttle King" and even uses the nickname on his voice mail message. He joined AU part time in 2006, and came aboard full time largely because he relishes the collegiate atmosphere.

"I love AU. I always wanted to be a part of it," he said. "I want the bus to be a unique experience. This is not public transportation. This is part of the community. If they're running for the bus I tell them 'you don't have to do that.' This is not Metro—this is not that intense. I'll wait for you."

Buchanan picks his featured words from conversations with his grown children or from an etymology book. His aim isn't to shock his passengers with a word they've never heard of, rather it's to perhaps reacquaint them with one they already know but haven't thought much about lately.

"I want it to be a word they can utilize in their everyday vocabulary," he said.  "The bus can be intense. You're running for it; you're missing it; it's crowded. I just want to go above and beyond and provide them with good customer service."

On this hot April late afternoon, the faces on Buchanan's bus are weary. But they light up when he asks how they're doing and delivers his word of the day—"sobriety."

Once Buchanan picked "adoration." It happens to be the way many of his passengers feel about him.

"I just want to do something positive for the students," he said. "At the end of the semester I tell them stuff like, 'your parents are going to be very proud of you.' I'm so humbled and honored that people take notice. That's my reward right there."